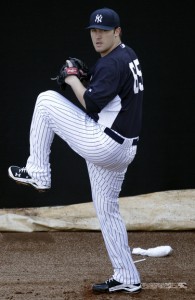 The Yankees are always one of baseball's most active teams at the trade deadline, and that's because they're always in contention and looking to add. Last year it was the trio of Lance Berkman, Kerry Wood, and Austin Kearns. Two years ago it was Jerry Hairston Jr., Eric Hinske, and Chad Gaudin. Three years ago we welcomed Xavier Nady, Damaso Marte, and Ivan Rodriguez to the Bronx. Sometimes these moves work out, sometimes they don't, that's just the way baseball works.
You can be sure the Yanks won't be content with what they have this year and will again be shopping at midseason, but they've already got two pretty big midseason pickups coming their way. They're still a ways off from contributing, but how many other clubs will be adding two pitchers the caliber of Rafael Soriano and Phil Hughes to their roster six or eight or ten weeks from now? It sounds kinda silly at the moment, but those two could be very significant additions for the Yankees if they come back healthy and reasonably approximate their true selves on the mound. Hell, even if just one of them comes back it'll be an upgrade.
For all the negativity surrounding Soriano, from his contract to his performance to his injury, the guy is a better pitcher than what he's shown us over the first 48 games of 2011. Who knows how long the elbow has been bothering him, but his true talent level is not a 4.84 FIP with more walks (11) than strikeouts (10) in 15 IP. Soriano's worst non-rookie season was 2007, when he put together a 4.17 FIP setting up for the Braves. Even that guy is an upgrade over the Lance Pendletons and Luis Ayalas of the world (no offense guys).
Hughes is a much bigger question mark but he might offer a bigger reward as well. If he's healthy (and believe me, that's a huge if) the Yankees could use him either in the rotation or in the bullpen, wherever they need him more. Given all this time off, imagine how much of a help it'll be if Phil is just league average but getting into midseason form when others are fading in August in September. He doesn't have to be a star to help, just better than the 12th man on the staff.
Soriano and Hughes are two total wild cards this year given the nature of their injuries, and the Yankees really shouldn't count on them to contribute anything the rest of the way. Whatever they give is gravy but you know what? There's a non-zero chance that one or both comes back healthy and gives the team a boost down the stretch. Not many clubs add those kinds of arms for the stretch run, and New York could end up making two upgrades to the pitching staff without the hassle of making a trade with another team.
Update: This is a complete oversight on my part, but we could also lump Pedro Feliciano into this group as well.