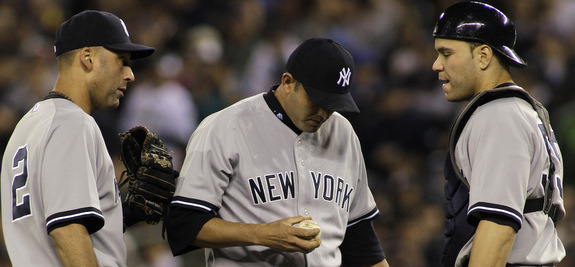 It's late and I'm grouchy, you're getting bullet points and you're going to like it!
The Mariners came into the game with a .302 OBP and yet Yankees' pitchers managed to walk six and hit another. Michael Pineda tried to return the favor with five walks in five innings of his own, but as usual the Yankees couldn't do a damn thing against the bullpen. Just three of their final 14 batters reached base, when some guys named David Pauley and Jamey Wright were on the mound. Gross.
A.J. Burnett was pulled after five rocky innings and 97 pitches, and I thought that was the right move. Of course it would be nice if Boone Logan actually got a lefty out one of these days, and Luis Ayala got beat on walks and wild pitches against crappy hitters. Burnett was a grenade with the pin pulled at that point and we know how quickly he can melt down, but Logan and Ayala just didn't get it done. Would be nice if Joe Girardi wasn't so stubborn about marrying relievers to innings, that sixth inning was a spot for the David Robertson.
Two blown opportunities: Curtis Granderson getting stranded on second after leading off the third with a walk and a stolen base (Mark Teixeira and Alex Rodriguez didn't even put the ball in play), and Eduardo Nunez getting picked off second with two outs in the eighth. That's just awful, the Mariners straight up caught him napping there.
As for the actual offense, Tex hit a first inning solo homer, Grandy scored on a wild pitch, and A-Rod singled home Tex on a ball that Franklin Gutierrez nearly caught. Gutierrez did rob Nick Swisher of a homer earlier in the game, which sucked. All four Mariners' runs came on RBI ground outs because the Yankees were so generously putting men on base. Just one of the six walks drawn by New York batters came around to score. I say again, gross.
Here's the box score and video, and here's the WPA graph.
Anyway, the good news is that we got our 1,000,000th (non-spam) comment on Friday night, so that's pretty cool. Thanks to everyone for reading and commenting over the years. Hopefully you'll be back tomorrow night when Ivan Nova takes on Felix Hernandez in what will surely be a good ol' time.