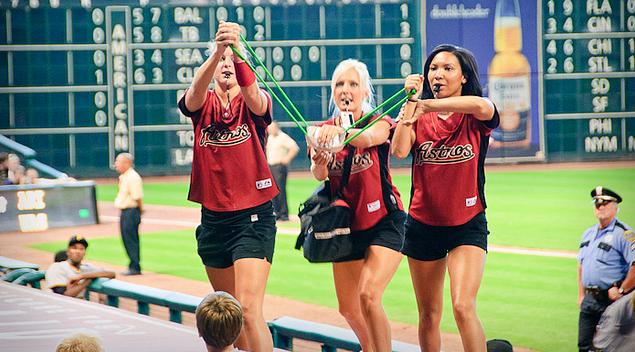 Rumors of realignment have popped up over the weekend, focusing on the creation of two 15-team leagues. Let's get the nuts and bolts of it from Buster Olney (Insider req'd)…
Sources familiar with the discussions to date say the talks are serious, and while one executive believes the odds of change are less than 50-50, another says this is the type of discussion that can gather momentum and become a reality. "It's really important that the players are behind this," he said.

There are details to work out, of course. Some on the ownership side would favor a division-less structure — that is to say, 15 teams in each league looking to survive to get to the postseason, in a structure similar to what was in place before 1969 — but some players indicated on Saturday night that the only internal discussions they've had center around three divisions of five teams in each league.
The Astros seem to be the obvious candidate to move from the NL over to the AL, taking one team away from the six-team NL Central while adding one to the four-team AL West. Plus it would create a geographic rivalry with the Texas. The problem is that two 15-team leagues would mean that interleague play will take place all year, otherwise one team in each league will be off each night. Apparently the top five teams in each league would make the playoffs, which is great in theory but still isn't perfect because the schedule will presumably remain imbalanced. I'm not sure I love the idea, but I'm curious to know what everyone thinks.
Anyways, here's the open thread for the night. The ESPN Sunday Night Game has the Reds at the Giants (Volquez vs. Sanchez), plus you've also got Game Six of the NBA Finals (8pm ET, ABC). You can also watch Yankees' second round pick Sam Stafford pitch for Texas against 21st round pick Zach Wilson (he's a first baseman) and Arizona State (7pm ET, ESPN2 and ESPN360.com). Winner advances to the College World Series. Talk about whatever, go nuts.