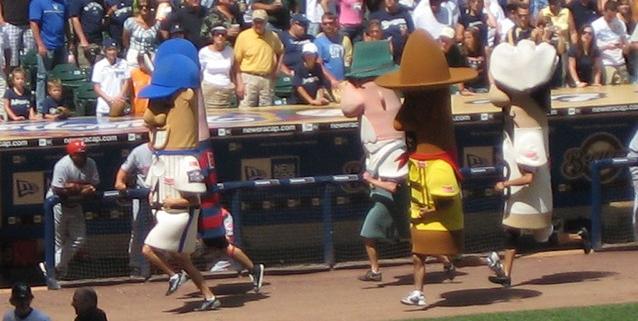 It's been a long, long time since the Yankees and Brewers played in Yankee Stadium. The last time these two clubs met in the Bronx was before Milwaukee jumped from the AL to the NL in 1998, and … well here's the box score from that game. Scott Pose leading off! Derek Jeter batting seventh! Cats and dogs, living together! Crazy how long it's been, a baseball lifetime basically.
What Have The Brewers Done Lately?
The Brewers are coming off a three game sweep of the Twins in Milwaukee, outscoring the road team 21-6 during the series. They've also won four of five but are coming out of a stretch in which they won just two of six games. It happens. At 44-35, the Brewers lead the NL Central by three games and their +27 run differential is fourth best in the so called senior circuit.
Brewers On Offense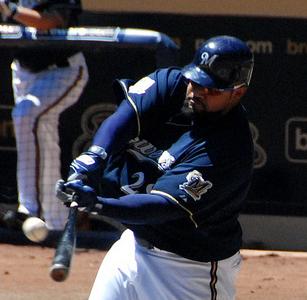 This is pretty damn close to an AL offense folks, at least at the top the lineup. Rickie Weeks flashes a .375 wOBA from the leadoff spot and comes into the series with a .348/.389/.576 batting line over the three weeks or so. Nyjer Morgan (.371 wOBA) will bat second against right-handers but Corey Hart (.359 wOBA overall, .506 wOBA vs. LHP) will bat there against CC Sabathia in the final game of the series. Batting third is one of the game's very best, Ryan Braun. Dude's got a .416 wOBA this year and comes into the series with a 17 game hitting steak. Because that's not enough, Prince Fielder backs him up from the cleanup spot, and he's sporting a .439 wOBA. He comes into the series hitting .363/.519/.800 over his last 26 games and .326/.473/.681 in his last 44 games. Someone hold me.
Things kinda drop off after that. Third baseman Casey McGehee handles most of the five-hole duties, but his wOBA is a pathetic .264 at the moment. He hasn't hit at all, one little hit streak in May and that's it. Yuniesky Betancourt is one of the very worst players in baseball (.264 wOBA with bad defense), and Carlos Gomez is just slightly better (.296 wOBA). The catching tandem of Jonathan Lucroy (.336 wOBA) and George Kottaras (.323 wOBA) is surprisingly productive for the position, and the just called up (as in yesterday) Mat Gamel (.409 wOBA in Triple-A) will get reps as the designated hitter.
Overall, the Brewers boast a .328 wOBA as a team, the fifth highest in baseball. They've hit the second most homers (91) behind the Yankees (111), and they're middle of the pack with 53 steals. Braun (17), Gomez (15), and Weeks (seven) are the tops in that department. Fielder is going to make Yankee Stadium look very small with his power, smaller than it already looks. The good news is that Morgan and Kottaras are Milwaukee's top power threats from the left side after him, but Braun, Weeks, and Hart can hit the ball out of almost any part of the park. This will not be a fun series for the Yankees pitching staff.
Brewers On The Mound
Tuesday, RHP Zack Greinke: The Yankees had their chance to trade for Greinke this winter, but decided against it and will now have to face him later tonight. The 27-year-old right-hander comes into the series with 80 strikeouts and nine unintentional walks in 60 IP, adding up to a 2.30 FIP. His 4.77 ERA is the result of a laughably low 58.8% strand rate and a .348 BABIP. Greinke is going to carve hitters up with two low-90's fastballs plus a slider, curveball, and changeup. Aside from Felix Hernandez in Seattle, I don't think the Yankees have had a tougher assignment yet this season. It's okay though, he can't handle New York, amirite?
Wednesday, RHP Shaun Marcum: I'm not sure if Marcum is actually going to make this start. He's left his previous two outings early due to hip issues (after just one and three innings, respectively), but as of now he's listed as the probably starter. Marcum is another guy having a phenomenal year, sporting a 3.16 FIP in 94.2 IP. Although the numbers don't show it this year, the right-hander has typically had a very pronounced reverse platoon split in recent years because his changeup is world class. He'll throw it in any count to batters on either side of the plate, though it's most effective against lefties. Beyond that, Marcum will also throw a mid-80's fastball (yes, 80's) and a curveball, but that changeup is how he makes his money. The Yankees have seen enough of him over the years because of his time in Toronto, but that doesn't mean it'll be any easier.
Thursday, LHP Randy Wolf: After Greinke and Marcum, Wolf is going to seem like batting practice. The lefty doesn't miss many bats 6.68 K/9 and gives up a ton of fly balls (36.1%), two traits that play right into the Yankees' hands. His 4.08 FIP is a better indication of his talent than his 3.20 ERA, but the former is still rock solid. Wolf still has that knockout curveball, the big slow (upper-60's) bender that he can throw for strikes or bury in the dirt. An upper-80's fastball, slider, and changeup round out his repertoire. Andruw Jones has more plate appearances against Wolf (61) than anyone in baseball not named Chipper, but he's just a .200/.279/.436 hitter off the southpaw.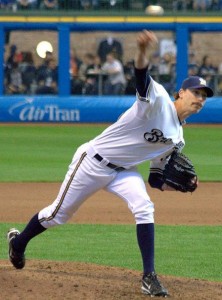 Bullpen: Unfortunately, we won't get to see Sergio Mitre's comeback tour, Milwaukee designated him for assignment just yesterday. That's a shame. Instead we'll have to settle for another Yankees castoff, Brewers closer John Axford. He spent a year bouncing around the farm system before being released, and he's since turned into one the better closers in the baseball thanks to some mechanical adjustments. He will get himself into trouble (4.08 BB/9), but it's tough to get past an 11.72 K/9 and 52.5% ground ball rate with three outs to go.
Axford's primary setup man is Kameron Loe, who is death on righties thanks to his sinker-slider approach (64.2% grounders). Lefty Zach Braddock was just called up yesterday to replace Mitre, and he's Milwaukee's lone southpaw in the pen. He's sorta like Boone Logan in that he throws hard (low-to-mid-90's) with a slider, but he's not like Boone Logan in that he destroys left-handed batters. Tim Dillard was also called up not too long ago, and he's struck out 17 against just two walks in 16 IP. The Brewers other righty reliever is another Yankees castoff, old buddy LaTroy Hawkins. He came back from shoulder surgery last month and has a 2.44 FIP in 19.2 IP with a lot of grounders (60.3%). Long man Marco Estrada would (presumably) start for Marcum if he can't go, and he's got a 4.10 FIP in 47.2 IP.
The Yankees are going to get the best the Brewers have to offer this week, so it's going to be a very tough series. Their starters miss bats, the lineup hits the ball out of the park from both sides of the plate, and the bullpen has some dynamite specialists in front of a very good closer. This one should be fun.
Recommended Brewers Reading: Disciples of Uecker
If you want to check out any of these three games at Yankee Stadium, RAB Tickets can get you there. We've got some ticket pricing info after the jump…