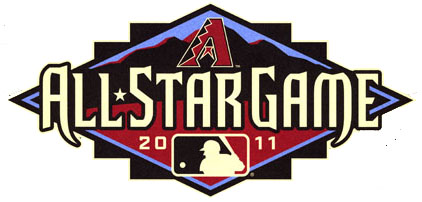 Now it counts! Seriously, how dumb is it that this glorified exhibition will decide home field advantage in the World Series? I can't wait for that fifth inning matchup between Aaron Crow and Hunter Pence to decide whether or not the Yankees get to play three or four games in the Bronx come late October, assuming they make it that far of course. Don't want to jinx it.
That said, the All-Star Game isn't boring, at least I don't think so. I just hate that it impacts the World Series. It's fun to see all the different players and a new pitcher every inning, usually I'm fumbling around MLB.tv to see these guys play, and for this one night they're all playing in one stadium. That's pretty cool. Here are your starting lineups…
American League
Curtis Granderson, CF
Asdrubal Cabrera, SS
Adrian Gonzalez, 1B
Jose Bautista, RF
Josh Hamilton, LF
Adrian Beltre, 3B
David Ortiz, DH
Robinson Cano, 2B
Alex Avila, C
Jered Weaver, RHP
National League
Rickie Weeks, 2B
Carlos Beltran, DH
Matt Kemp, CF
Prince Fielder, 1B
Brian McCann, C
Lance Berkman, RF
Matt Holliday, LF
Troy Tulowitzki, SS
Scott Rolen, 3B
Roy Halladay, RHP
The full rosters can be seen here. David Robertson and Russell Martin are the only other Yankees actually at the game and eligible to play after Derek Jeter, Alex Rodriguez, Mariano Rivera, and CC Sabathia backed out. If needed, the two managers have confirmed that Jose Valverde and Brian Wilson will serve as closers, and Valverde apparently rehearsed a new jig should he close out the game. Seriously. Anyway, first pitch is scheduled for 8pm ET and can be seen on FOX. Talk about the game or anything else your heart desires here. Enjoy.