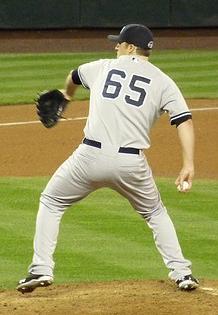 After nearly three months on the disabled list, Phil Hughes will officially rejoin the rotation tomorrow night. Ivan Nova has already been sent to the minors to free up a rotation spot, and someone else will be sent down tomorrow to clear a roster spot when Hughes is officially activated. Pants Lendleton is a safe guess. The Yankees will have a chance to manipulate that roster spot even further after Hughes makes the start, and it involves sending him to the minors.
The idea is simple enough. Phil starts Wednesday, then on Thursday he gets sent down. That would allow the Yankees to call up an extra bullpen arm (or position player, if that's what they feel they need) for the four games against Tampa leading into the All-Star break. If Mariano Rivera's sore triceps lingers, that extra arm could come in handy. Although it's certainly not a must-win series, four games against the Rays are pretty important since they're lingering in the standings, just five games back of the Yankees in the loss column.
Hughes is only scheduled to make the one Wednesday start before the break, so the rotation won't be short-handed if he goes down. Players have to stay in the minors for ten days after being demoted, so he won't be eligible to come up until next Sunday. That's not a problem because the break will give the other four guys in the rotation plenty of rest. No one misses a start, no one has to pitch on short rest, nothing. In a worst case scenario where someone gets hurt, Hughes could be recalled because of the injury rule. There's also Brian Gordon and Ivan Nova for that situation.
As for Hughes himself, sending him down gives him a chance to make a regular start during the downtime instead of sitting for eight or nine days because of the break. Joe Girardi said over the weekend that the rest might not be a bad thing since he's rehabbed so hard, but I'm not so sure I buy that. He's just 25 and missed a bunch of time, I'm sure he's feeling pretty fresh compared to everyone else. Even if he makes a short start in Double-A*, say three innings or 60 pitches just to stay sharp, it'll help keep the rust off. Hughes has two minor league options left by my count, but one would not be burned in this situation because he won't remain in the minors for the 20 days needed to use an option.
* The Triple-A All-Star break is the same days as the MLB one, so there would be no game for Hughes to start for Scranton next week. He'd have to go to Trenton for it to work.
It sounds great on paper, but there are some sticking points. For one, who are they going to call up to fill that extra roster spot? Kevin Whelan and Ryan Pope are on the disabled list, and neither Gordon or Nova is clear of the ten day rule. The only pitchers on the 40-man roster that are in the minors and eligible to come up are Dellin Betances, Andrew Brackman, and Steve Garrison. Definite noes on the first two, though Garrison could be useful as a second left-hander out of the pen. Lefties Johnny Damon, Matt Joyce, and Casey Kotchman hit in premium lineup spots for Tampa and all have pronounced platoon splits. It makes some sense.
The Yankees would also have the option of adding someone to the 40-man roster, but that will require some serious player movement. They need to clear a 40-man spot to take Hughes off the 60-man DL in the first place, then would have to make another move to add a reliever the next day. I suppose (the injured) Jeff Marquez and Kanekoa Texiera could be designated for assignment, or they could call-up Justin Maxwell and stick him on the 60-day DL since he's done for the year with a torn labrum. There are moves to be made, though none are obvious. Randy Flores, George Kontos, even Adam Warren could be candidates to come up for the four games against Tampa.
Here's an example of how the rotation could shake out immediately before and after the break, which works out pretty nicely. I'm not sure if the Yankees would go for this little maneuver though, it might be a little cute for them. It makes sense however, strengthening the roster a bit for an important series (or at least as important as a July series can be) against a division rival is something a team should always consider.