The decline in CC Sabathia's strikeout rate was noticeable earlier this year. His 6.63 K/9 through his first 16 starts was his lowest since 2003 and marked the third straight year of decline. That's not to say Sabathia was struggling, he certainly wasn't, but strikeouts are a pretty good indicator of future success and no team wants to see its ace trending in the wrong direction. Three starts and 33 whiffs in 22.2 IP later, suddenly CC's strikeout rate sits at 7.70 K/9, better than last year's rate and identical to his 2009 showing.
Where have all these strikeouts come from? I don't think there's one thing we can to point to, but we might as well start with his fastball. After sitting comfortably in the low-90's (somewhere around 92-94) all season, Sabathia has averaged 95 mph over his last three starts, topping out at high as 97-98. Here's the velocity plot with a very noticeable spike …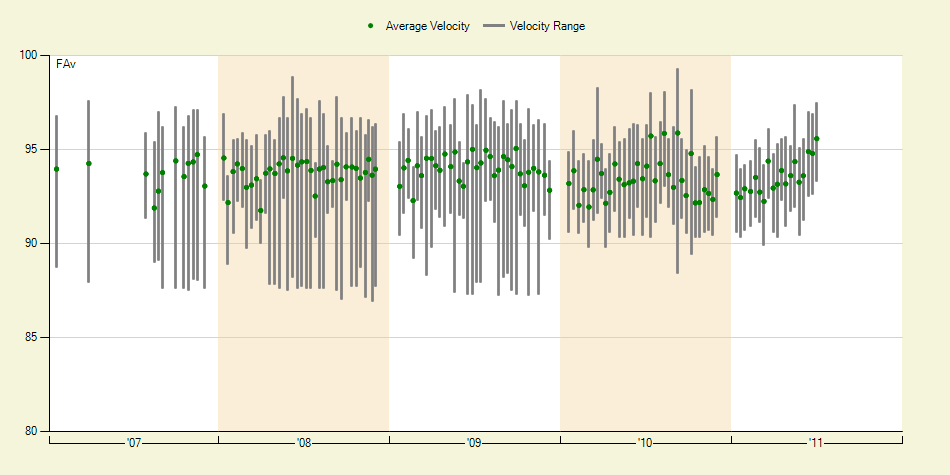 His last three starts have been played in two different parks, so that decreases the chances of a PitchFX glitch somewhat. Sabathia chalks the increased velocity up to the heat, saying after last night's game that "I've been able to stay loose … That's a big thing for me. In between innings trying to stay loose and make sure I can keep sweating, and I think that's a big part of my velocity." Dave Pinto mused that it might have to do with his offseason knee surgery and weight loss; maybe it just took him some time to get used to his new body and now he's finding his groove. His pitch selection tells another story…

Sabathia's been fastball-slider heavy these last three starts, which is not a total surprise when you consider that the other teams rolled out lineups with an usual amount of left-handed batters. Three of the nine opposing starters in each game were lefty bats, and three pinch-hitters also swung from that side of the plate. Usually Sabathia will see about 21% left-handed batters, but it's been more than one-third over the last two weeks. That plays right to his strengths.
It's also worth noting that two of those last three starts came against National League teams in Yankee Stadium, the Rockies and Brewers. Both teams strike out more than the average club, a little more than once for every five at-bats. Add in one strikeout prone (Jason Giambi) and one rookie (Mat Gamel) designated hitter, and that strikeout rate probably goes up a notch. The Indians are the fifth most strikeout happy team in baseball at 22.6%. At risk of jinxing it, I'm going to note that Sabathia will face the Rays on Sunday, the final game before the All-Star break. Tampa has the second most strikeouts against left-handed pitchers in the AL despite the third fewest plate appearances.
"Milwaukee is still my best," said Sabathia after last night's game, referring to the most dominant stretch of his career. "I don't even know what happened. It was just one of those things … That was two and a half months. This has been three or four starts." It has been just three starts, three very fun starts against teams that can reasonably be called contenders. Sabathia is known to go on some major runs in the second half of the season, and it looks like 2011's streak is just beginning.