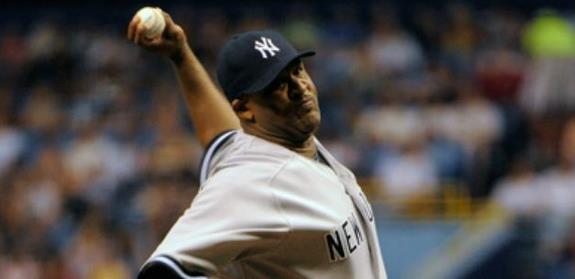 Ever since Cliff Lee decided to return to Philadelphia this offseason, the Yankees' rotation has been a "figure it out as we go" situation. Sergio Mitre was given a shot to win a job in Spring Training. Bartolo Colon was a total shot in the dark based on Tony Pena's winter ball recommendation. Freddy Garcia was the last girl left at the bar. Kevin Millwood and Carlos Silva came and went. Someone named Brian Gordon even made two starts. It's kinda remarkable that the Yankees have the sixth best ERA (3.68) and FIP (3.85) in the AL after all of that.
Despite that surprising success, the team is still on the lookout for a bonafide number two starter before Sunday's trade deadline. So far we've heard about guys like Francisco Liriano, Hiroki Kuroda, Ubaldo Jimenez, Gio Gonzalez … you name it and the Yankees have/had interest in them. Here's the question no one really wants to see to answer though: what happens if they don't make a trade for a number two starter before the deadline?
* * *
It's not often that you an take a pitcher and his production for granted, but CC Sabathia is a given. We know he's going to make 34 or 35 starts. We know he's going to keep the Yankees in the game every time out and we know that more often than not, he'll do much more than that. We know he'll be there to end losing streaks and extend winning streaks, and be ready to take the ball in Game One of any potential playoff series. I don't like to think of it as taking Sabathia for granted, but that's kinda what we're doing. The rest of the rotation though, that's where the questions arise.
In terms of raw production, Colon has been the team's number two starter this year. Just check out some of the peripherals…
Colon: 7.96 K/9 … 2.34 BB/9 … 46.4% grounders
Sabathia: 7.91 K/9 … 2.34 BB/9 … 48.0% grounders
They're the same pitcher in terms of strikeouts, walks, and grounders, almost exactly. Sabathia is better at preventing the long ball (4.2% HR/FB vs. 10.1%) and is far more durable, but the underlying performance is similar. Bart is already in uncharted territory, however. He's thrown more innings this year than any year since 2005, and since that Cy Young winning season he's made a total of four starts after today's date, July 26th. The concern is that Bart won't hold up not just the rest of the season, but deep into the playoffs. I'm not necessarily talking about breaking down, just running out of gas. Plain old fatigue. The fastball might go from 93-94 to 90-91, the two-seamer might lose some movement, 80+ pitches might become a chore, that kind of stuff happens. That's why the DL stint may have been a blessing in disguise, maybe it extended his effectiveness for another two or three or six weeks. Who knows?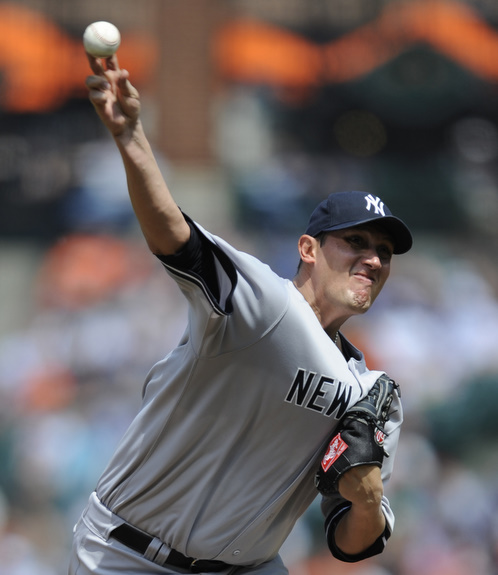 Sweaty Freddy doesn't have the same sexy peripherals as Colon and Sabathia, but he's actually third on the team in FIP (3.65) and innings (111.2). Last night's game was a classic example of what he can do; plow through a bad lineup with a slow, slower, slowest approach and generates more ugly swings than anyone else on the staff. It's kind of fun to watch, actually, at least when he's on. Garcia did throw over 150 IP last year, so there isn't much of a concern about him holding up through September. It's just a question about his effectiveness with a repertoire befit of a slow-pitch softball league.
As strange as this sounds after all the debate we had during the 2008-2009 offseason, A.J. Burnett has been a bonafide workhorse for the Yankees. He hasn't missed a start all year and has completed at least five innings every time out. That has value. Yeah, his performance is erratic, but overall he's been a low-4.00's ERA guy with peripherals that suggest he should be a little better (3.97 xFIP) or a little worse (4.68 FIP). The important thing is that he's not a complete disaster like last year, where he was ineffective and out of games early. At least now he's giving them a chance.
The last spot in the rotation is far from settled. Something clearly is not right with Phil Hughes, whose fastball velocity is down from last year even after this season's DL trip. The new grip curveball is better but it's still not much of a swing and miss offering, and both the changeup and cutter look like they belong to a kid in rookie ball. His entire arsenal dropped a grade, if not more. Maybe letting him thrown 80.1 more innings in 2010 than he did in 2009 wasn't such a great idea after all.
Ivan Nova was solid in the first half but has been romanticized into an ace since going to Triple-A. That isn't the case. He'll come up to start one of two games this Saturday against the Orioles, give up maybe three or four runs in five or six or maybe even seven innings (it is the Orioles, after all), and then people will remember what he is. Nova can't miss bats (5.01 K/9 and 5.2% swings and misses) and isn't the greatest at limiting walks (3.63 BB/9), so he survives on his ground ball rate (55.3%). He's a fine back of the rotation option, counting on him for more would be pretty foolish. Adam Warren was being prepared to start one of those Saturday games if Nova's ankle didn't heal up in time, and David Phelps was also considered for a spot start earlier this year. I'm sure D.J. Mitchell will get consideration as well. That's the extent of the team's pitching depth, which is what they'll have to go to battle with the rest of the season if a trade is not made.
* * *
That patchwork rotation sounds scary, but we can make anything sound scary if we want. Look at the Rangers last year. They went to the World Series with 1) a legit ace, 2) a 30-year-old that a) led the AL in walks, and b) was in his first season as a starter, 3) a cast-off in his first year back from Japan, and 4) Tommy freaking Hunter. The 2007 Rockies had pre-surgery Jeff Francis, Aaron Cook, rookie Ubaldo, and JOSH FOGG. Those are just two examples of recent patchwork rotations that got to the Fall Classic, but you probably already picked up on the fact that both those clubs lost the World Series to teams with superior pitching.
The Yankees have a pretty big lead in the wildcard race (eight games in the loss column) plus a light schedule over the next month or so, so they're in good position to make the playoffs. Nothing is guaranteed, but they've got a great head start with about 38% of the season left to play. They don't need to add a starter to have a shot at playing in October, that much is pretty clear. Adding a number two guy behind Sabathia and ahead of everyone else is about improving their odds in the postseason. Anything can happen in a short series, like Jeff Francis out-pitching Beast Mode Brandon Webb or Cody Ross taking Roy Halladay deep twice in one game, That's the beauty of baseball. The Yankees don't need another starter, but it sure would improve their chances of doing damage in the playoffs if they got one.