Two things crossed my mind earlier on Thursday, and since they kinda go together I'm going to mash them up into one post…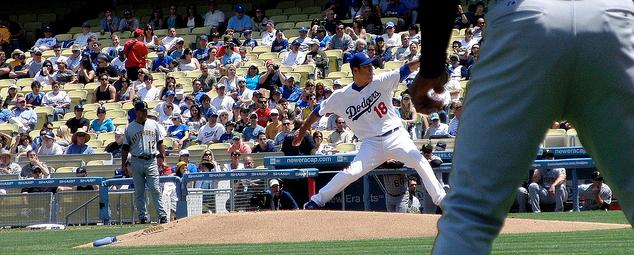 The Price For Kuroda
We've spent a lot of time talking about Hiroki Kuroda and whether or not he'd be a worthy add at the deadline, but we haven't really tried to figure out what it would take to acquire him. The Dodgers say they want a young player, preferably a starting pitcher, but what they want and what they'll ultimately get are not necessarily the same thing. It's tough for us to figure out a far price from where we sit, which is why I try to look at what comparable players returned when they were dealt. As luck would have it, a comparable player was traded yesterday, when Edwin Jackson went from the White Sox to the Blue Jays.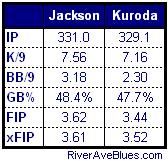 Although Jackson is younger and cheaper, both he and Kuroda will be free agents at season's end and have performed at a similar level since the start of last season. Just check out the table on the right for that info. In order to acquire Jackson, Toronto had to take on Mark Teahen's terrible contract (another ~$2M this year plus $5.5M next year) and give up a serviceable middle reliever (Jason Frasor) plus their sixth best prospect coming into the year, non-top 100 guy Zach Stewart. Frasor can become a free agent after this season and projects to be a Type-B, so that's a draft pick we should consider.
A Kuroda trade doesn't have to follow that exact blueprint, but a serviceable, spare part big leaguer and a good but not great prospect appear to be the bare minimum asking price. Frankie Cervelli plus one of the Triple-A arms? Brandon Laird instead of Cervelli? Chris Dickerson? Greg Golson? The bad contract part (the Teahen equivalent) might not be a factor because Kuroda still has a lot of money on his deal ($6.8M) and will apparently require some compensation to waive his no-trade clause. The Jackson trade isn't a perfect match for Kuroda, but it's in the ballpark.
Left-Handed vs. Right-Handed
The Yankees really aren't in a position to be all that picky when it comes to starting pitching help, but in a perfect world they'd prefer a left-hander to a right-hander. Yankee Stadium is pretty close to neutral for right-handed batters according to StatCorner's park factors, but it obviously boosts the performance by lefties quite a bit. That's pretty much the only reason the Yankees should favor a lefty over a righty, but even then we have to be talking about choosing between two similar pitchers. How often does that happen?
The idea of adding a lefty to matchup against the Red Sox sounds great in theory, but Boston actually hits left-handed pitchers (slightly) better than they do right-handers. Dustin Pedroia and Kevin Youkilis annihilate southpaws, enough to counteract the drop in production that Adrian Gonzalez and Jacoby Ellsbury experience against same-side batters (David Ortiz actually has a reverse split this year). The Yankees could very well run into the Rangers again in the postseason, and aside from Josh Hamilton, that lineup is significantly right-handed. Even if the Angels manage to make a run and sneak into the postseason, they're very right-handed.
Given what's available on the market, the Yankees don't really have the option to add a lefty to their rotation. There's Erik Bedard, but he's the only one of note. The important thing is for them to get a quality pitcher first and foremost, handedness is secondary. It would be nice to add a southpaw, but only because of Yankee Stadium. The Red Sox have next to nothing to do with it.