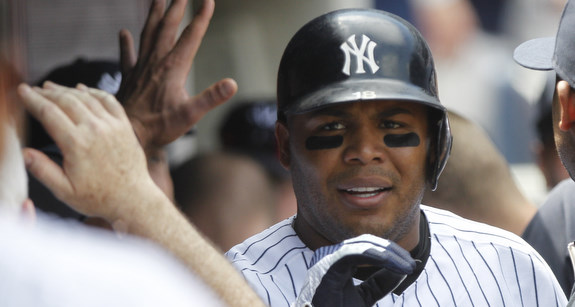 For the first time in what seems like forever, the Yankees started the season with a legitimately strong bench. In recent years they'd begun the season with various cast-offs before seeking upgrades throughout the summer, but this year they targeted pieces for the bench in free agency and had a strong reserve corps from the get-go. Part of that had to do with $20M+ worth of Cliff Lee money burning a hole in the team's pocket, obviously.
Although Frankie Cervelli missed the season's first month a broken foot suffered in Spring Training, his absence and Gus Molina's presence wasn't that big of a deal because all those April off days allowed the team to play Russell Martin almost every single game without running him into the ground Tony LaRussa-Yadier Molina style. Eduardo Nunez made a strong impression in limited action early on and has since done fine work as medium-term fill-ins for Derek Jeter and Alex Rodriguez. The other two pieces on the bench have seen their seasons go in opposite directions.
The Great Eric Chavez … Who Ain't So Great Anymore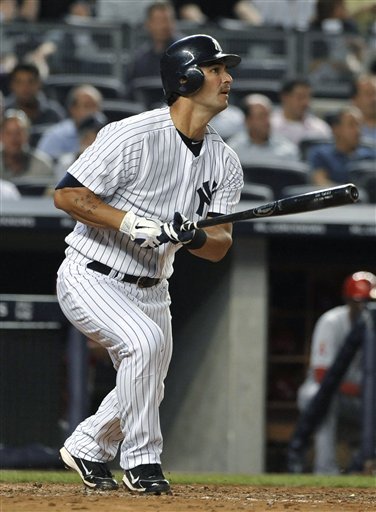 When the season started, Chavez looked like the replacement for Nick Johnson's vacant DL spot. He made spot starts at first and third bases in the first two months of the season, hitting .303/.410/.424 with more walks (six) than strikeouts (three) before injuring his foot legging out a triple in Detroit on May 5th. Chavez was only playing once or twice a week and he wasn't hitting for much power, but he was putting together solid at-bats and contributing to the offense when he did play. His defense, particularly at the hot corner, was stellar. As far as bench players go, the Yankees had hit the lottery.
The foot injury kept Chavez out for more than two full months, and when he did return in late-July, he kept on hitting. He had eleven hits in his first 32 at-bats back, including his first homerun of the season, which prompted the Yankees to bench Jorge Posada and make Chavez the regular DH against righties. That lasted all of three games before Alex Rodriguez returned from the DL and promptly hurt his finger on a diving defensive play (forcing Chavez to play third), but his bat went silent after that. In his last dozen games, a total of 42 plate appearances, the former Athletic has just six hits and three walks (one intentional), leading to a .158/.220/.211 batting line. His season line has fallen to an unimpressive (but still solid) .262/.327/.350 in 113 trips to the plate.
That Bum Andruw Jones … Who's Pretty Awesome
Andruw did a fine job of introducing himself to Yankees' fans, clubbing a homerun in his first plate appearance of the season. It was all downhill after that for Jones, who hit just .195/.278/.356 before the All-Star break and .231/.315/.446 against lefties, the very demographic he was brought in to combat. Many fans were wondering why the Yankees didn't just re-sign Marcus Thames in the offseason (without bothering to look at his performance with the Dodgers, I assume) or promote the righty hitting Greg Golson/Justin Maxwell given Andruw's struggles as the fourth outfielder.
With a little help from his mother, Jones has completely turned his season around and is hitting .345/.463/.764 overall (.350/.469/.700 against lefties) in the second half. His seven homers since the break are more than guys like Paul Konerko, Adrian Gonzalez, Miguel Cabrera, and Jose Bautista even though he's got about one-third the plate appearances of those four. Jones has gone from a bit piece to an important cog in the offense (especially against southpaws) thanks to his revival.
* * *
The season started with Chavez as the hot bench bat and Jones as the guy no one really wanted to see at the plate, but injury and some help from mom have reversed those roles. Now it's Jones with the hot bat and Chavez that's flailing away at everything. Of course, we have to remember that this is all small sample size stuff, it's just the nature of the job. Because of that, cold streaks can turn hot in very short order, and vice versa. With any luck, Chavez will get back on track before the end of the season and the Yankees can head into a potential playoff series with two legitimate weapons off the bench, one from each side of the plate.