It's kinda funny how the Yankees go into these big pitchers' parks on the road and make them look very small, don't they? They did it to CitiField earlier in the year, and did it on Thursday night to Target Field en route to an 8-4 win.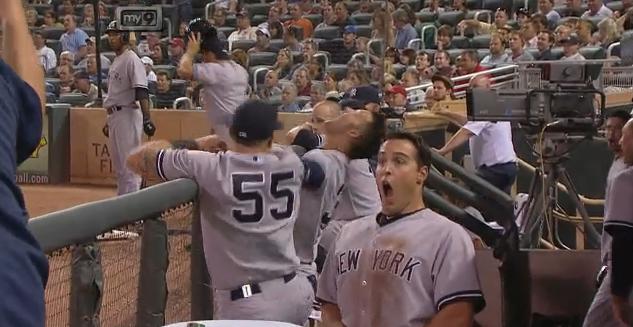 Back-To-Back
A few weeks ago I suggested that Andruw Jones has the most raw power on the Yankees. Not necessarily the best pure hitting ability, but just raw strength and the ability to hit the ball far. He showed off that power in the fifth inning, when he hit the second of back-to-back homers into the third deck in left field. The Twins said it went 434 feet, which sounds light but whatever. Hit Tracker says it's the eighth longest homer in Target Field this year, behind a whole bunch of Jim Thome taters and various visiting players (Matt Kemp, David Ortiz, couple of guys from the Rangers). And you know what's really crazy? Andruw hit a ball to center field in his first at-bat, which Ben Revere caught right in front of the 411 sign on the warning track. That's a homer in like, 27 other parks. He also hit a ball into the second deck juuust foul in the ninth. Jones has been killing the ball since the All-Star break, and he's not slowing down at all.
Nick Swisher was on the front end of the back-to-back homers, clubbing a two-run bomb to left that landed two decks below Andruw's shot. That stretched the lead from 3-2 to 5-2, then Jones made it 6-2.
CC Was So So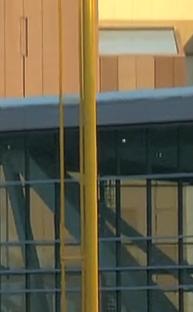 CC Sabathia has been just a little off lately, struggling with his command more than anything else. The first four batters he faced hit the ball very hard, but two of them made outs and Justin Morneau's two-run homer was reviewed and ruled to have gone foul. Sabathia came out in the second and was struggling again, allowing a pair of runs to negate the one his teammates tallied in the top of the inning. His stuff was fine, but he was leaving the ball up, a common theme in his last few outings.
Someone flipped the switch after the second, because Sabathia retired the next eight men he faced and 12 of the next 15. Things got a little hairy in the seventh inning, but it was more bad luck that poor pitching. Tsuyoshi Nishioka started the inning with a legit line drive single, but Drew Butera blooped in a base hit and Ben Revere plated a run with a ground ball single that had eyes. The bases were loaded when Eduardo Nunez Scissorhands booted what looked like a double play ball, and there were still none out. CC managed to retire both Joe Mauer and Morneau on fly balls (Mauer's drove in a run) before Robinson Cano made a great diving stop to rob Thome of a hit and RBI. It could have been a lot worse, but the Twins kinda stink and the Yankees countered some bad defense with some good defense.
The final tally: four runs and ten hits in seven innings, with nine strikeouts and just a single walk. Sabathia also got seven ground ball outs to three air outs, throwing 106 pitches (eight swings and misses). He was bad in the first and second, vintage CC in the third through sixth, then iffy in the seventh. He's still fighting through this little rough patch, but as long as it's just command and not lack of stuff (his velocity is fine, the slider is biting, all looks good on the stuff front), there's no reason to worry. Plenty of starts left for him to figure it out.

Leftovers
Curtis Granderson smoked a triple in the third inning, his tenth three-bagger of the season. He's the first player in franchise history to rack up 30+ homers, 10+ triples, and 20+ steals in a single season. He's quite good at this baseball thing, in case you didn't know. Curtis went 3-for-5 to raise his season batting line to .281/.374/.593.
Nunez made up for his seventh inning error with a great series of baserunning in the ninth. He slapped a hustle doubt to left center with Jones on first, then scored all the way from second on Frankie Cervelli's line drive that Danny Valencia knocked down but couldn't glove. I didn't think he had a prayer to score on the play, even with two outs, but he was halfway between third and home before Valencia recovered to pick up the ball.
Andruw's shot overshadows Mark Teixeira's two-run bomb in the third, which only went into the second deck in left. He, Granderson, and the revived Derek Jeter combined to go 7-for-13 with a double, a triple, and a homer. Jones, Nunez, and Cervelli combined to go 6-for-14 with a double and a homer further down the order. Pretty solid all-around night for the offense.
David Robertson and Cory Wade combined for two perfect innings after Sabathia, striking out one each and not allowing a ball out of the infield. Roberson's worked in three of the last four days but Rafael Soriano and Mariano Rivera have had two straight days off, so look for them to be the eighth and ninth inning combo on Friday. Mo did warm up before Cervelli drove in those two insurance runs in the ninth, however.
For some reason unbeknownst to me, Ron Gardenhire came out to argue after the umps reviewed Morneau's non-homer and ended up getting tossed. I get coming out just to talk, even if it's just for show, but he was arguing pretty emphatically. Joe Girardi put up less of a fight after the Billy Butler nonsense on Wednesday. Weird.
Did Michael Kay seriously rant about the Twins signing Mauer long-term then building a ballpark that took away his power in the first inning? Did that actually happen? I didn't imagine that, right? Sigh. Anyway, the Yankees maintained their half-game lead in the AL East because the Red Sox beat the Royals. They're also nine games up in the wildcard race.
Box Score, WPA Graph & Standings
MLB.com has the box score and video, FanGraphs the other stuff, and ESPN the updated standings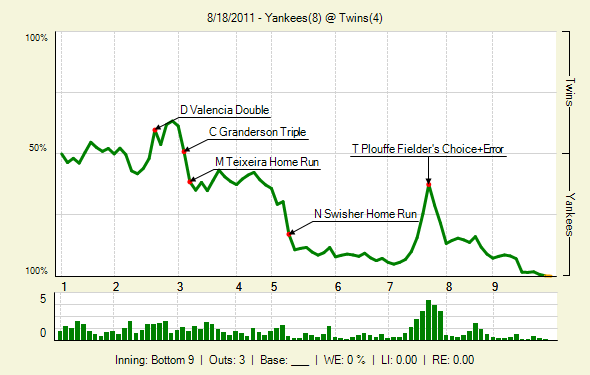 Up Next
Game two of this four-game set will be played Friday night, when Phil Hughes gives it a go against Kevin Slowey. The Yankees will look to up their record to 61-19 against the Twins in the Gardenhire era.