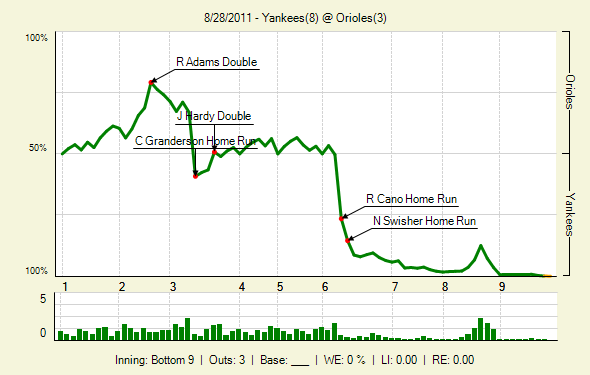 Now that's more like it. This "not getting a runner past first base" business wasn't going to cut it, so the Yankees went back to doing what they do best in the night cap of Saturday's doubleheader. They broke out the whoppin' sticks and pounded the Orioles, which is what they should have been doing all weekend. To the bullet points…
Offensive star of the game was Curtis Granderson who clubbed two homers (one a three-run shot, the other solo) and now leads all of baseball with 38 dingers. Both came off lefties too, and his 13 left-on-left homers leads baseball by five. This is a guy that had 16 homers off lefties in his entire career before 2011. Pretty amazing season for Curtis.
Because two bombs from Grandy weren't enough, the trio of Robinson Cano, Nick Swisher, and Andruw Jones combined to go back-to-back-to-back in the sixth inning. Brian Matusz gave up Granderson's first bomb as well as two-thirds of the back-to-back-to-back jobs, raising his season rate to 3.02 HR/9 (14 in 41.2 IP). He's far too good for that, something's seriously wrong there.
All the homers provided support for Ivan Nova, who was shaky in the early innings. He gave up exactly one run in each of the first, second, and third innings, and only three of the first 14 batters he faced in those three frames put the ball on the ground. That's not Nova. He settled down and allowed just an infield single and a walk in the fourth through seventh innings before putting the first two men he faced in the eight on base. David Robertson came in, allowed a single to load the bases, then struck out the next three to escape the jam unscathed. He's quite good at that. Very nice efforts from both guys (ten strikeouts combined), especially Nova after the shaky start to the game.
Everyone in the lineup but Brett Gardner and Eduardo Nunez had a hit (Gardner walked), plus Granderson, Tex, and Cano had multiple knocks. Seven of their eleven hits went for extra bases. Pretty nice rebound following the nonsense in the first game.
The Yankees are back to two games behind the Red Sox and 6.5 up on the Rays, so they're sitting pretty right now. Could be better, but it's not worth complaining about. Here's the box score, here's the advanced stats, and here's the updated standings.
One more game left in the series, which will be played Monday night. Freddy Garcia will make his (hopefully) triumphant return from the disabled list against Jeremy Guthrie Alfredo Simon.