A four-game series with the Orioles that started so terribly on Friday ended with a split on Monday. The Yankees rode some homeruns and strong pitching to the win, putting last week's ugly stretch further away in the rear-view mirror.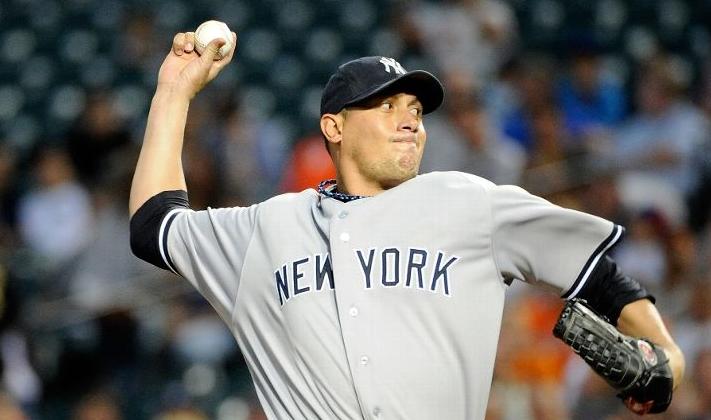 Freddy Sez: Nice Job!
It's been more than three weeks since we'd last seen Freddy Garcia on a big league mound, and if his 21 splitters and changeups are any indication, the cut on his right index finger if perfectly fine. The only blemish on Garcia's ledger was a solo homer by Mark Reynolds, a fifth inning shot that was the first long ball he'd allowed in 69 IP. That's a span of eleven starts (the last homer he surrendered was a leadoff shot by Jacoby Ellsbury in the first inning of that 1.2 IP, 4 R disaster on June 7th) and the longest such streak in the AL this season. It was like Freddy never left, he was mixing his pitching and getting hitters to pop-up on soft stuff off the plate.
All told, Garcia threw six full innings on just 88 pitches (six swings and misses), and he probably had another inning in him if need be. I don't have a problem with Joe Girardi taking it easy on him in his first start back after the long layoff. Sweaty Freddy's ERA is down to 3.09 on the season, and he's held the Orioles to just three total runs in three six innings starts this season. He's been pretty awesome this year, and like I said, it was like he was never gone. No rust whatsoever.
Smokin' Hot
There was a time, maybe a month and a half ago, when it looked like Nick Swisher was going to finish the season with maybe 15 homers if he got lucky. He slumped so badly in the first two months of the season that he had just ten long balls through the team's first 90 games. Then he got hot, hitting four homers in the next nine games, and now he's hit seven homers in his last eleven games following a two-run job off Alfredo Simon in the fourth inning. It was a no doubter off the bat, and his sixth bomb in his last eight hits. At .177 WPA, it was easily the biggest play of the game. Meanwhile, Swisher is up to .267/.383/.464 on the season, which is a minor miracle considering that he was at .206/.321/.288 as late as May 28th.
Leftovers
The first run of the game came on a Mark Teixiera double in the first, a 3-2 fastball that he hooked into the right field corner. Curtis Granderson (who walked) was running on the pitch and scored rather easily. Robinson Cano also had two hits and nice diving defensive stop, plus Eric Chavez doubled to left-center field. Add in Swisher's homer, and that's all the Yankees hits. Five of them, three for extra bases (all three of Baltimore's hits when for extras, by the way). Brett Gardner drew a walk and stole a base, might as well note that somewhere.
The three-headed bullpen monster of Rafael Soriano, David Robertson, and Mariano Rivera wasn't as stellar as usual, but they did the job. Soriano walked a batter with one out in the seventh, then struck out the next two guys with some serious heat. He was up to 95 with the fastball. Robertson gave up a solo homer to J.J. Hardy, a poorly located fastball in an 0-2 count. It's the first homer he'd given up in 366 days, when Alexei Ramirez of the White Sox got him. It's also the first run he allowed on the road this season. Mo was untouchable in the ninth. Flawless victory, fatality.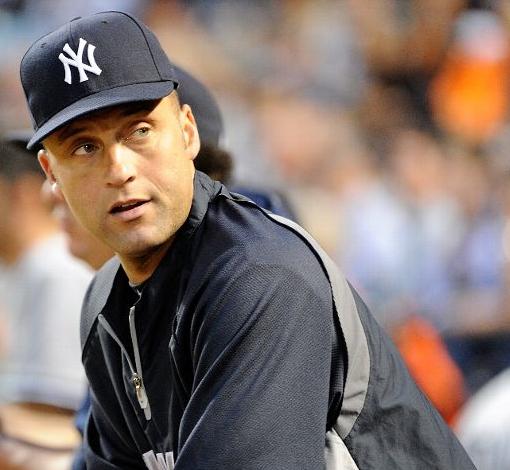 Can anyone come up with a logical reason why Andruw Jones didn't pinch-hit for Jorge Posada with two outs in the top of the ninth against lefty Mike Gonzalez? Maybe because they had a short bench with Derek Jeter and Alex Rodriguez banged up? Otherwise it doesn't really make sense. Posada hasn't hit lefties at all, and at least Jones has a chance of running into one for an insurance run. Very odd.
The YES telestrator was off all night, every time Michael Kay or Ken Singleton tried to use it to point something out, they were wide left. This, now this is the type of hard-hitting analysis you expect from RAB.
The Rays lost to the Blue Jays and the Red Sox were idle, so the Yankees are 1.5 games back in the division and 7.5 games up on the wildcard. As you can see in the sidebar, their magic number for a postseason berth is just 23.
Box Score, WPA Graph & Box Score
MLB.com has the box score and video highlights, FanGraphs the nerdy stuff, and ESPN the updated standings.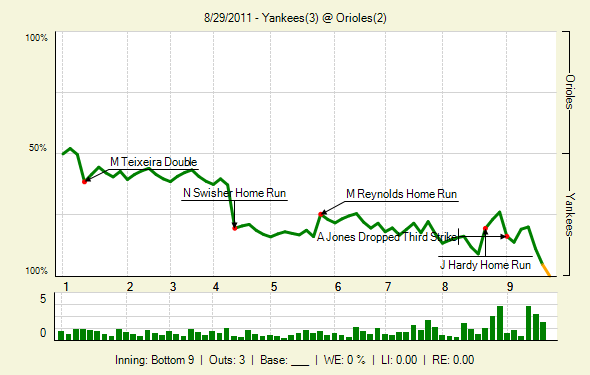 Up Next
Off to Boston for the final Fenway Park series of the season. CC Sabathia will kick things off against John Lackey on Tuesday night. If you're interested in going to the game, RAB Tickets can help get you there on the cheap.