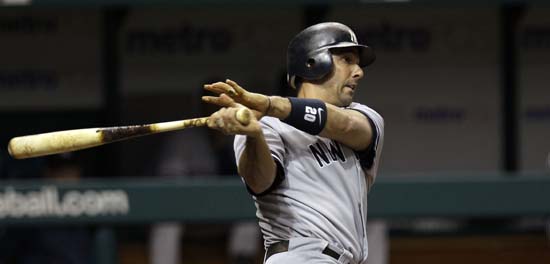 * Disclaimer: I did not actually measure Jorge Posada's bat speed.
We're almost exactly two-thirds of the way through the season now, and it's painfully obvious at this point that Posada is pretty much done. I love Jorge, I think he's one of the greatest Yankees of all-time and one of the most underrated players of the last 15 years, but he's been an offensive black hole for most of the season. Yes, he's hitting a respectable .285/.347/.405 since May 17th (when he pulled himself out of the lineup), but that's buoyed by a three-week hot streak immediately following the incident. Posada is hitting .252/.310/.388 over the last seven weeks and .236/.318/.382 on the season. That's a .307 wOBA and a .146 ISO, easily the lowest marks of his career (not counting his injury plagued 2008 season).
Although his .269 BABIP is low (.316 career), there's been a pretty drastic shift in his batting ball profile leading to the drop. His line drive rate is just 16.7%, down from 20.8% from 2008-2010 and his lowest since the data started being recorded in 2002. A 45.2% ground ball rate (his highest since 2004) and an utter lack of speed will also contribute to a lower than usual BABIP. Also, man just watch the games. Jorge doesn't hit the ball with much authority these days. He hasn't hit a ball out of the park in over a month and has just three homers since late-April, almost 90 team games. At 39 years old (40 in two weeks) and with all those years of catching on his body, frankly it's a miracle Posada stayed as productive as long he did.

Thanks to this post over at Getting Blanked, I found out that Hit Tracker records "ball off the bat" speed for all homeruns. That's pretty amazing, and I wish they had it for all batted balls, but I don't want to sound greedy. One day we'll have that data, maybe. Anyway, the table on the right shows Posada's various ball of the bat speeds through the years. Remember, it's just homeruns, so we're talking about pretty small samples. In fact, he hit just three homers in 2008 because of the shoulder injury, so you can probably just disregard that year.
The data is pretty consistent from year to year, averaging right around 105 mph and topping out at north of 110 mph pretty much each year. It's dropped off this year, about four miles an hour on average. His maximum ball off the bat speed this year is short of his averages for the last four years. Although this is just homeruns (all nine of 'em in 2011), it's does support the claim that Posada just isn't hitting the ball with much authority these days, a claim also supported by his declining line drive rate and the eye test. Less hard contact is a symptom of declining bat speed, so the title isn't that erroneous.
Had Posada not been "Jorge Posada, All-Time Yankee Great," he would have been jettisoned many moons ago. He's basically a switch-hitting version of 2007 Josh Phelps this season, a sometimes first baseman/sometimes DH/emergency catcher that can't really hit (Phelps hit .263/.330/.363 as a Yankee, better than what Posada is going this year). Phelps was cut in mid-June that year, but Posada met no such fate. Despite his utter luck of offensive production at a position designed only to produce offense, it looks like Jorge will spend the rest of the year with the Yankees before being put out to pasture after the season. The signs of decline are obvious though, and I didn't need to look at the speed of the ball of his bat to tell you that.