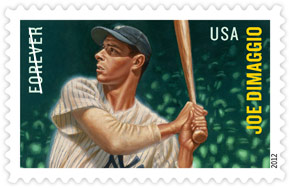 In an effort to increase interest in stamp collecting (seriously), the U.S. Postal Service is launching a 2012 commemorative program featuring four baseball players "who were perennial All-Star selections and left an indelible impression on the game." Joe DiMaggio (right, obviously) is the first to be released in preview form, and the remaining three will be announced in the coming days.
I'm not much of a collector, of anything really, but I do have a big cardboard box on the top shelf of my closet with every stupid little giveaway item I've ever gotten at a baseball game, Yankees or otherwise. I've got more calenders than I know what to do with, more hats than I could ever wear, more magnets than I could ever stick on my fridge. Is that weird? Typing it out makes me think it's kinda weird.
Anyway, here is your open thread for the night. The Mets are playing the Padres at home (Pelfrey vs. Stauffer), and you can also watch the Red Sox take on the Twins on ESPN (Wakefield vs. Baker). MLB Network will also be broadcasting a west coast game later on. Talk about whatever you like here, anything goes.