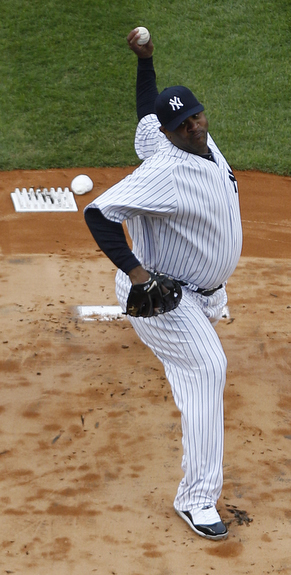 All season long, there have been questions about the pitching staff. It didn't matter how well Bartolo Colon or Freddy Garcia or Ivan Nova pitched, they were going to be judged on a start-by-start basis. All three have exceeded expectations, no doubt, but they're still being treated as question marks. One thing has never been in question though, and that's who would start Game One of the ALDS. That would be CC Sabathia, regardless of how well everyone else pitched. There's a slight problem though, Sabathia doesn't line up to start that game, and it's not even close.
Because of the continued use of the six-man rotation, Sabathia has either two or three starts left. If the Yankees keep the rotation the way it is right now, CC would have to start Game One on just two days rest, which obviously won't happen. If they move him back a day, he'd have to start Game One on seven days rest. Move him up a day, it would be three days rest. Here, look at the schedule, it just doesn't work without getting creative. There's not much schedule left, so the Yankees can't keep delaying this rotation decision like they have for the last month or so. Sabathia needs to get lined up for September 30th, the date of Game One, and it needs to happen soon. My solution: a simulated game on Thursday.
Sabathia last pitched on Saturday, so Thursday would be his turn with normal rest. The Yankees have to get him back on a regular five-day schedule at some point, the sooner the better. They're off on Thursday, traveling from Seattle to Toronto, which is why it would have to be a simulated game. Sabathia gets his work in that day, the lines up to start on the 20th (Rays) and then on the 25th (Red Sox) before that Game One comes up. In an absolute disaster scenario in which the Rays catch New York and the two teams are tied for a playoff spot, they Yankees would have the option of pushing CC back to the 26th to have him face Tampa. I doubt it comes to that, though. They'll be able to use that simulated game to have Sabathia pitch on normal rest for basically three full turns through the rotation, giving him (hopefully) enough time to get back into the routine before the postseason. This would be ideal given where we are right now.
Obviously the long and late night flight from Seattle to Toronto sucks (thanks for the getaway day on Wednesday, Mariners! [/sarcasm]), but the Yankees could simply send Sabathia to Toronto before the rest of the team. Have him fly out on Tuesday, rest on Wednesday, then show up to the park on Thursday afternoon ready to unload 100 pitches. Greg Golson, Chris Dickerson, Brandon Laird … all the September call-ups that might be rusting away on the bench can step in the box for some extra at-bats, and Jesus Montero could catch in order to develop some of that all-important familiarity with the staff ace. Even if he splits the catching duties with Austin Romine, it works.
Are the Yankees going to do this? Most likely not. They absolutely have to do something though, and they should probably do it pretty soon. Figuring out who starts Games Two and Three is enough of a concern right now, they don't need to make things even more difficult by having Sabathia start Game One on some inordinate amount of rest. The idea of essentially skipping CC sounds crazy, but the team has built up enough of a cushion on the wildcard that they could get away with it. A few wins in Seattle would make the simulated game plan even more palatable.