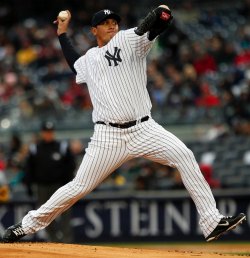 For the first few months of the season it was the one thing that kept Freddy Garcia's head above water. As summer rolled in, it allowed him to stand behind CC Sabathia as the team's No. 2 pitcher. But after going 10 straight starts without allowing a home run, Garcia has allowed five in his last three, including four in his last two, which amounts to 7.2 IP. It leaves the Yankees facing a big question heading into the postseason: can Freddy still step up and take the ball in Game 2?
There are two possible scenarios at play here. The first one, popular with the statistics-oriented crowd, is that Garcia is merely experiencing a correction. It's not normal for a pitcher to go 10 starts without allowing a homer, and so Garcia is just coming back down to earth. His xFIP has suggested such a regression, and the past three games represent just that. The second one is that he found something in his repertoire that allowed him to suppress home runs earlier in the season. His finger injury, and perhaps some dulling of his command due to a long layoff, is reason for his recent failures.
During his homerless streak, Garcia leaned heavily on his changeup. He threw it 30 percent of the time, more than any other pitch in his arsenal. After that he threw the four-seamer and the slider with frequency; in total he threw those three pitches a hair more than 85 percent of the time. The remaining 15 percent was divided almost evenly among the cutter, splitter, and two-seamer. This might seem odd, since the splitter has been, anecdotally, Garcia's most effective pitch this season. Yet he doesn't deploy it with frequency. Instead he picks his spots, and it worked. He generated swings on 11.2 percent of his 259 splitters during the streak.
In his last three starts Garcia has started relying on the splitter much more frequently. He has thrown it 39 times out of 250 total pitches, or 15.6 percent. That's essentially triple the rate at which he threw it during his streak. At the same time he's backed off the changeup significantly, throwing it only 45 times, or 18 percent. The slider has gained primacy in Garcia's repertoire; he has thrown it 31.2 percent of the time since coming off the DL. Might the change of pitch selection be reason for Garcia's failures?
In his start against Baltimore, the one when he allowed two homers and seven runs in 2.2 innings, Garcia leaned on the slider. He threw it 16 times in his 56 pitches, or 28.6 percent. The Orioles hitters demolished it, though — the Brooks Baseball data has the linear weights score on the slider at 3.12, which is simply horrible (negative scores are better). He also got beat up with the fastball, which is unsurprising. In that game he threw the splitter just four time,s and with generally good results: three strikes, one swinging, and a negative linear weights score. He apparently used that performance to justify heavier usage of his splitter yesterday.
That, of course, did not work either. Garcia threw 26 splitters out of 106 pitches, or 24.5 percent. His linear weights score: 2.04. His slider, however, was more effective, generating three swings and misses on 33 pitches and resulting in a -1.04 linear weights score. The changeup also came back into play, accounting for 27 of those 106 pitches and generating five swings and misses. It wasn't overly effective, just barely on the linear weights scale, but it certainly got the job done moreso than it did against the Orioles. As expected, the results were quite better. But they weren't necessarily good.
The change in repertoire, then, lends credence to both ends of the argument. While it's certainly possible that Garcia is just experiencing a correction following his homerless streak, it's also possible that a change in pitch selection, and a lack of sharpness in command, has led him down a homer-prone path. There's no real way to tell, of course, which makes the issue that much more frustrating. But it's good to know that there are tangible changes at play. If everything had been the same as before, the situation might appear a bit more dire.
This leaves some room for optimism. If Garcia gets sharper with each outing, he might be in ideal shape come playoff time. When he's keeping hitters off-balance with his slider and changeup, while working the splitter into opportune spots, he's shown that he's effective. But he hasn't done that in his last few games. His next few starts, then, will be of great importance in determining the postseason rotation. The No. 2 spot is, in all likelihood, his to lose. A strong finish could set the Yankees up well for a playoff run.