Every other week, Jamie O'Grady channels the 2005-version of Michael Kay by "Looking Back. Looking Forward." to get you caught up on what just was, and what soon will be with the New York Yankees.
LOOKING BACK: So what did you miss?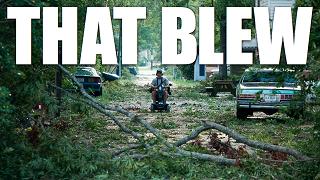 If you're anything like me, you missed having electricity for a while thanks to that little vixen, Irene. No power meant no access to the Interwebs, and no way to share my musings.
Call me crazy, but anytime a storm causes catastrophic flooding, and like, deaths and stuff, I expect at least a half-day off from work. Nevertheless, Axisa, Pawlikowski & Kabak LLP runs a pretty tight ship, so let's get right to it, shall we?
What do you get when you cross a 2.5 game lead for the best record in the American League, a Major League-best +206 run differential, and a 100% probability of making the playoffs? The 2011 New York Yankees, that's what.
It's taken virtually five months – amidst all sorts of uncertainty, injuries and controversy (in other words, a typical Yankee season) – but the 2011 Bombers now appear focused, opportunistic and capable of doing whatever is necessary to win games. They can beat you with power (197 team-dongs are 24 more than any other club) or speed (3rd in MLB with 131 team-swipes), they're patient as heck (537 team-walks), and they can pitch a little bit, too (3.71 team-ERA ranks 10th in all of baseball – Boston lags behind at 20th).
And as if going 8-2 over their last 10 games wasn't enough, New York recently "added" two potentially lethal right-handed bats to its already potent lineup with the return of Alex Rodriguez and promotion of the highly-touted Jesus Montero. Yup, it's ARod and a son of God to the rescue. Montero, whose batting stance is eerily Pujolsian, arrived last Thursday, and if the early returns are any indication (5-for13 with 2HR), the Yankee lineup will truly be without weak link come October.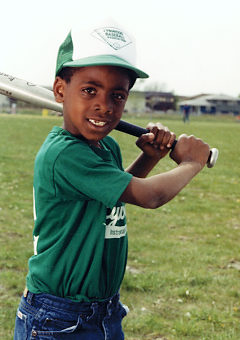 So you say you're the biggest Yankee fan in the world, but have you actually looked at the numbers being put up by Curtis Granderson this season?
Admittedly, even I was astounded when I gave his 2011 statistics a bit of a "how's your father."
 The Yankee All-Star is first in the American League in runs scored (125) and runs batted in (107), he's second in home runs (38), total bases (291),  and triples (10), and he's the first Yankees player since Mickey Mantle in 1955 to record at least 30 home runs and 10 triples in the same season. In fact, Granderson is just the 15th major league player since 1950 to achieve that feat.
In short, the man is having an historic campaign, and with all due respect to either Jacoby Ellsbury and Adrian Gonzalez, it's hard to argue there exists a finer example of "most valuable" than Granderson. Well, unless you're throwing Justin Verlander into the mix.
My second stab at the prediction business didn't go so great, as the Yankees somehow managed not to play that .800 baseball I had called for. The nerve. Whatever, they're bound to meet my lofty goals at some point over the remainder of the season, right?
What we learned:

8/18 – 8/21 @ MIN – Just in case you missed it, Joe Mauer makes a helluva lot more money than you do, which is just a tad ironic given that he's only managed to hit two home runs for the entire season. Apparently, Justin Morneau collects concussions like that dude from The Silence of the Lambs collects rare butterflies. The artists formerly known as The M&M Boys may be rapidly descending into Generation-K territory, although in fairness, none of the Mets' trio ever won an MVP. Actually, rumor has it Bill Pulsipher is working for MVP Septic out of Schenectady. For a while there, it seemed like CC Sabathia had lost his moxie, but something happened in the 7th inning of his August 18th start when he retired Mauer, Morneau and Jim Thome. He's been absolutely rolling ever since (3-0 with 36 Ks over 27.2 IP). (Prediction: NYY win 3-of-4) (Actual: NYY win 3-of-4)

8/23 – 8/25 v. OAK – What a long, strange trip it's been for Yankee hurler Bartolo Colon. After a lengthy sabbatical – presumably training for Nathan's Hot Dog Eating Contest – Colon and his 2011 revival has had been nothing short of amazing. Taking a page from Boston's playbook, GM Brian Cashman struck gold with the HGH-enhanced Colon, but the joyride may finally be over. Since July 7, Colon is just 2-6, having rocked out to the tune of a 4.90 ERA. Opposing hitters are batting .301 against him, and his strikeouts are down from where they were in the beginning of the season. It goes without saying that Colon's 145IP in 2011 are by far most he's thrown since 2005. Tire much? Oh, New York scored more in one game (22 runs) against the A's than the Jets are expected to score in the first month of the upcoming NFL season. (Prediction: NYY win 2-of-3) (Actual: NYY lose 2-of-3)

8/26 – 8/29 v. BAL – I've taken a lot of heat recently for dismissing Baltimore as some kind of minor league squad, so I decided to look deeper to try and find any redeeming qualities to the organization. Not including this season (84 losses already), the Orioles have averaged 91 losses per year since 1998. That's not only dreadful, but it's also patently inexcusable. Baltimore's extended run of futility has coincided with high annual draft slots, yet there hasn't been one impact player to come up through their system in the last decade. I'm sorry, but an allegedly juiced-up Brian Roberts isn't exactly proof of organization competency. Moving on… (Prediction: NYY sweep series) (Actual: NYY lose 2-of-3 / rain-shortened 5-game series*) 

8/30 – 9/1 @ BOS – Yes, New York took two of three games. And yes, CC Sabathia proved he can actually beat the Red Sox. But for me, perhaps the more important take away is the sense that Mariano Rivera's lights-out-ed-ness is becoming less and less evident this season. The numbers say otherwise (his 7.43 K/BB ratio is almost twice his career average of 4.03), but I cannot remember seeing Mo experience such a consistent loss of command from one outing to the next. Maybe his stuff remains so great that location doesn't matter as much as it would to some other aging closer, but my gut tells me that the long-feared (and oft-disproven) twilight of Rivera's career has already begun. (Prediction: NYY win 2-of-3)  (Actual: NYY win 2-of-3) 
LOOKING FORWARD: What can't you miss?
There are not a lot of unanswered questions at this point in the season, but the Yankee rotation continues to be one of them. Just when you think AJ Burnett's carcass is finally ready to be cremated, he goes and tosses 5.1 serviceable innings in Fenway Park and completely redeems himself! Armed with a supposedly new, Larry Rothchild-inspired delivery, the enigmatic Burnett is going to have to show those kinds of results (and more) to be given any consideration for the playoff roster, let alone the playoff rotation.
On the bright side, at least the regular season's conclusion means we won't have to sit through three more months of Girardi promising to go back to a 5-man rotation.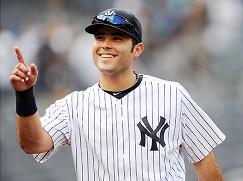 And what of young Mr. Montero? We already know that John Sterling jumped the shark some decades ago, but his home run call for Montero was positively ungodly. Whatever, the coming of Jesus has been a long time… uhh, coming, and the smart money says that barring a complete September-implosion, Montero will be (and should be) the Yankee playoff-DH.
Mariano Rivera has amassed 597 saves over his illustrious career, and despite my unsubstantiated assertion that the inevitable end may finally near, 600 saves is nothing to sneeze at. Sure, the save statistic is oft-maligned (maybe rightfully so), but there's no denying that Mariano's brilliance is only slightly more amazing than his longevity. Here's hoping he saves 600 more. Or at least 60.
It seems unfathomable, but Alex Rodriguez is finally flying under the radar in New York. Well, almost. While Granderson, Robinson Cano, Mark Teixeira and to a lesser extent, Nick Swisher, continue to do the heavy lifting, you can take it to the bank that ARod will play a critical role in the success or failure of New York's postseason aspirations. Rodiguez's surgically-repaired knee should be fully healed by October, and I'm guessing that mid-season DL-stint will serve him well from a stamina perspective. 
What we expect to learn:

9/02 – 9/04 v. TOR – Sure, this series already happened, but I promise you my prediction was made before the four-game series commenced.  Check out this absolutely douche'alicious photo of Toronto phenom Brett Lawrie, and if that's not enough of a reason to hate on him, he'll only be tormenting Yankee pitching for the next six years or so before Cashman purchases the rights to his everlasting soul. Brandon Morrow and AJ Burnett should rent an apartment together and star in an ESPN2 reality series. They can call it "All Arms, No Brains." Here's the thing, Gents; when you throw 95+ mph, it's a good idea to aim for that little thingy they call the strike zone. (Prediction: NYY sweep series) 

9/05 – 9/08 @ BAL – Oh Lord, these guys again? Seriously, how much can one man honestly be expected to write about this team? In fairness, the O's did make an abnormally stellar move during the offseason, acquiring SS JJ Hardy from the Twins for a pair of minor leaguers. All he's done this year is put up 26 homers and a .810 OPS. (Prediction: NYY win 3-of-4) 

9/09 – 9/11 @ LAA – Have you heard of a dude named Mark Trumbo? Well, there's a really good chance that Trumbo – I really hope his teammates have nicknamed him the "Rusty Trombo" – wins the AL Rookie of the Year Award. He's put up 26HR and 80RBI  over 132 games, and he's sure to garner enough votes to run neck-and-neck with Yankee starter Ivan Nova. The Angels have pulled to within 2.5 games of the AL West-leading Texas Rangers (2 games back in the loss column), so you know they'll be plenty motivated this weekend with New York coming to town. Oh, the Yanks get to face Jered Weaver (16-7, 2.49ERA) and Dan Haren (14-8, 3.20ERA), too. Joy! (Prediction: NYY win 2-of-3) 

9/12 – 9/14 @ SEA – For fans of the Seattle Mariners, it's all about baby steps. Like being on-pace for "just" 90 losses this year after 2010's epic 101-loss campaign. Also on the plus side, Chone Figgins' terrible four-year contract is almost halfway finished! Want to know how bad things are in the Pacific Northwest? Ichiro, a once-in-a-lifetime talent, is batting just .273, and he leads the team. At least Seattle still has an awesome stadium and cool uniforms.  And I'm pretty sure everyone who lives there hangs out with Eddie Vedder. (Prediction: NYY win 2-of-3) 
And that's all she wrote. I'll see you back here in a fortnight, unless you follow me on Twitter, in which case I'll see you every five seconds or so.