The regular season is slowly winding down, and the Yankees are just any combination of 12 wins or Rays losses away from clinching a postseason berth. With 20 games to go, they're sitting in a pretty great spot, and it's time to start paying homage to those that helped get them here.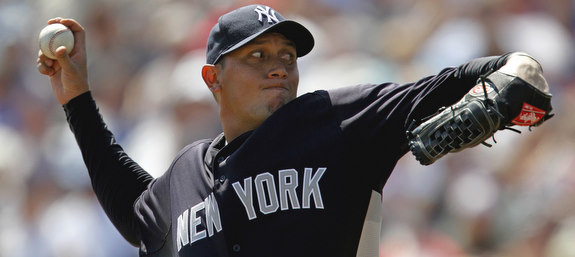 It seems kinda silly to praise Freddy Garcia just three days after his worst outing of the season, but that's exactly what we're going to do. The big right-hander has been steady and effective for the Yankees since the first day of the season, with a total of maybe three blips on the radar. Of course it wasn't supposed to happen this way, Garcia wasn't even Plan B.
Everyone knew the Yankees were going to go hard after Cliff Lee this past winter, and by the time he agreed to return the Phillies, the free agent starter crop had dried up. All that was left was a collection of cast-offs, has-beens, never-wases, and Freddy Garcia. The Yankees waited, and waited, and waited some more until Garcia accepted their offer of a minor league contract on the final day of January. The team wasn't thrilled about how their rotation was shaping up, and I'm sure Freddy wasn't thrilled about getting a non-guaranteed contract.
Spring Training came and went, and Garcia was named the fifth starter to open the season. The Yankees did all they could to avoid him for the first few weeks of the season, as a series of rain outs and off days allowed them to skip his turn a number of times. After a one-inning garbage time relief appearance in Fenway Park, Freddy made his first start of the season on April 16th, the 13th game of the season and the third time through the rotation. He came out and held the Orioles to two hits over six scoreless innings, but the Yankees again skipped his turn thanks to some schedule shenanigans. Eight days later, Garcia held another team to just two hits in six scoreless innings, this time the Rangers.
The Yankees didn't skip the one they call Sweaty Freddy anymore after that. He limited the Blue Jays to three runs in five innings next time out, and then ran off a stretch in which he completed at least six innings in five of his next six starts. His ERA dropped to 3.34 during that time, then came that ugly four-run, 1.2 IP disaster against the Red Sox. Garcia's ERA skyrocketed to 3.86, but he rebounded with another stretch in which he completed at least six innings in seven of nine starts. Only once during that time did he allowed more than three runs, only thrice more than two runs. The month of August started with a 3.22 ERA, and three starts later it sits at 3.50.
Garcia's season is now 22 starts (and one relief appearance) old, well beyond the point of being a pleasant surprise. We're not quite in "lightning in a bottle" territory since he did pitch last year, so I guess this qualifies as a minor miracle. Freddy's strikeout rate (5.91 K/9) is almost a full whiff better than what he did last year (5.10), and his unintentional walk rate remained the same (2.34 uIBB/9 this year vs. 2.29 last year). His 0.82 HR/9 is half-a-homer better than last season (1.32), and his FIP (3.84) is nearly a full run better than last year as well (4.77). At 2.2 fWAR, he's been nearly a full win more valuable than last year in 26 fewer innings.
The Yankees settled for Garcia eight months ago, when he was probably their Plan D or E, but they couldn't be any happier with how he's performed for them. Aside from a little cut on his index finger (and injury that didn't really require a DL stint), Freddy has been completely healthy and taken the ball every time he's been asked to. He's done more than just keep the Yankees in the game, he's taken the ball deep into games to give the bullpen a bit of a break, and frankly he's been about as reliable as preseason question marks could be. Freddy has been steady, no doubt about it.