The regular season is slowly winding down, and the Yankees are just any combination of 14 wins or Rays losses away from clinching a postseason berth. With 23 games to go, they're sitting in a pretty great spot, and it's time to start paying homage to those that helped get them here.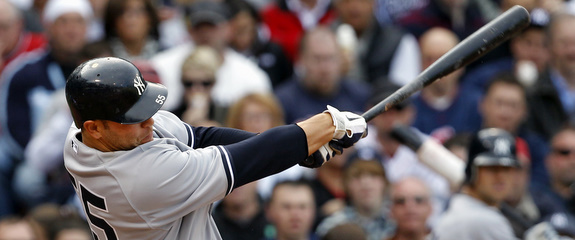 A little less than a year ago, the Yankees had a choice to make. Actually, it was probably more than a year ago, but the exact time from is not important. Jorge Posada was no longer a viable everyday catcher as he approached his 40th birthday, so for the first time in more than a decade, the Yankees had a hole behind the plate. They could have handed the job to Frankie Cervelli or Jesus Montero, but they instead opted for some experience, inking Russell Martin to a one-year deal worth $4M after the Dodgers non-tendered him.
Martin started the season on absolute fire, hitting six homers with a .333/.410/.722 batting line through the team's first 16 games, more homers than he hit during the entire 2010 season. The Yankees' new backstop kept hitting through mid-May (.270/.367/.511 on May 24th), but then he fell into a slump that saw him hit just .147/.261/.200 heading into the All-Star break. Martin was elected to the AL All-Star Team despite his .220/.323/.384 first half performance, but he did not play in the game and it seems like the three days of rest helped rejuvenate him.
In 49 team games since the break, Martin has hit a very respectable .264/.327/.464 with seven homers in 156 plate appearances. He's already gone deep more times this season than he did in 2009 and 2010 combined (12), and he's just two away from his career high of 19, set in 2007. With his season batting line sitting at .239/.326/.418 (.331 wOBA), Martin has been middle of the pack offensively among all backstops with at least 300 plate appearances. He's made up for the lack of average by drawing walks (10.5% of plate appearances) and hitting for power (.178 ISO) while also chipping in on the basepaths (8-for-9 in stolen base attempts).
Furthermore, Martin's been something of a revelation behind the plate. Granted, our defensive standards for catchers probably weren't all that high after watching Posada for all those years, but I think Martin has been better than expected at blocking balls in the dirt and especially at framing pitches. Max Marchi ran some numbers at The Hardball Times earlier this year and found that Russ is one of the best at framing pitches, improving the chances of a borderline pitch being called a strike by roughly 20%. Add in a 30.8% success rate of throwing out basestealers (the highest by a Yankees starting catcher in a long, long time), and you've got a rock solid, all-around catcher at the bottom of the order.
Last week's go-ahead double against the Red Sox was almost certainly the biggest moment of the season for Martin, but it was hardly the extent of his contributions. He's given the Yankees some production with the bat and some comfort behind the plate while fitting right into the clubhouse. I won't even bother trying to quantify his effect on the pitching staff because I don't think anyone knows how to accurately do that, but I think it's safe to say he's been a positive in that department too. Martin was not expected to be a savior coming into the season and he hasn't been, but I think he's exceeded expectations and been a surprisingly key contributor to a team that started the year with so many question marks.