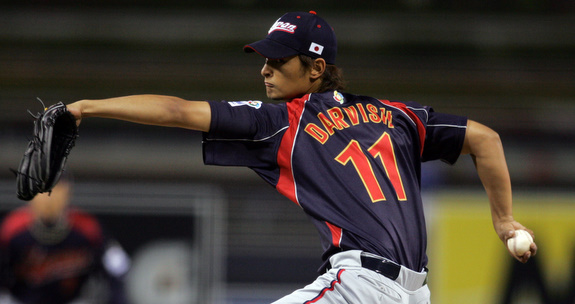 The dog days of August have morphed into the dog days of September, and we're all just crossing days off the calender until the Yankees clinch a playoff berth and begin preparations for the postseason. The Jesus Montero experiment is off to a thrilling start and gives everyone a reason to tune in to each game, but otherwise we're just going through the motions right now. Perhaps I'm taking the Yankees' success for granted, but so be it. As long as the players and the team aren't, then it's no big deal. That's why I figured I could get away with looking ahead to the offseason.
Regardless of what happens from here on out, we know the Yankees are going to be looking for some kind of starting pitching help this winter. Freddy Garcia and Bartolo Colon, even add Ivan Nova to that mix, have far exceeded expectations this year, but only one of those three is guaranteed to be around next season. No one really knows what to expect from A.J. Burnett and Phil Hughes going forward, so the Yankees are still lacking that bonafide number two starter. Perhaps Nova grows into that role with his improved slider, but I'd rather not expect it and be surprised than expect it and be disappointed.
The free agent starting pitching crop is generally weak this coming winter, with C.J. Wilson and Edwin Jackson representing the best of the bunch (ignoring CC Sabathia, since the Yankees wouldn't technically be adding him to the team). There's been some speculation that Wilson could get a nine-figure deal, and although I like him as a pitcher, I don't like him that much. My preference has been to secure a one-year stopgap (Chris Carpenter? Ryan Dempster?) and prepare to go all in during the pitching rich 2012-2013 offseason, but as Jered Weaver's recent extension has shown, those guys aren't guaranteed to hit the open market. That's where Yu Darvish comes in.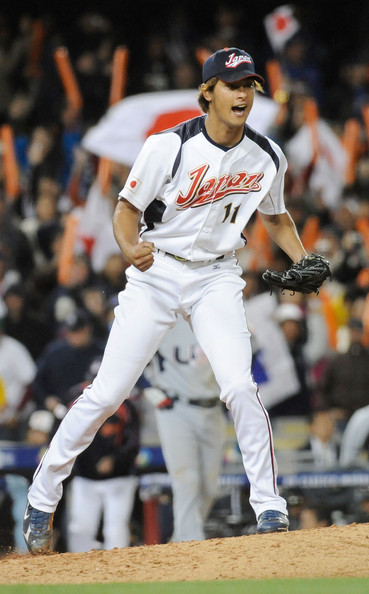 Nothing is official yet, but the general consensus is that the Nippon-Ham Fighters will make their 25-year-old ace available via the posting process this winter. It would make sense to do it now, with the weak free agent class and the potential for a healthy posting fee. Patrick Newman of NPB Tracker chimed in on all the Darvish stuff floating around today, and sees evidence suggesting that the right-hander will and won't be posted this winter. Like I said, it's not official and there's bound to be evidence supporting both arguments, but it seems like likely.
Within that piece, Patrick notes that Darvish has added bulk to his slender frame (he's listed at 6-foot-5 and 185 lbs., but Newman says he's up to 220 now) and is consistently working on the high end of his 93-97 mph fastball, perhaps showing off for all the scouts that flock to his starts. His arsenal of secondary pitches is said to consistent of everything from a slider to a cutter to a changeup to a curveball to a splitter to a shuuto (fancy word for a two-seamer), but if we've learned anything from Daisuke Matsuzaka, it's that six-pitch repertoires can suddenly turn into three- or four-pitch mixes in a heartbeat. I count four different pitches in this video of one of his late-May outings (four-seamer, two-seamer, change, curve), but if you watch any other Darvish video on YouTube, you'll see him throw a slider. Having five or six pitches and being willing to use them all is a different matter entirely.
We know the Yankees are at least doing their homework on Darvish. They had people watch him in May of 2009, in March of 2010, and in August of 2010, and yesterday George King reported that the Yanks recently sent scout Rick Williams to Japan to watch him pitch, not long after pro scouting director Billy Eppler made a similar trip. I do have some reservations from where I sit, and it's not because of Kei Igawa or Hideki Irabu. It's the cultural adjustment, the adjustment to a tougher league, and perhaps most of all, the adjustment to pitching every five days. Darvish already has over 1,200 IP on his arm as well, a rather significant total. At the same time, we're talking about a 25-year-old (two months younger than Phil Hughes) with ace upside, and those don't come around very often.
I have no idea what kind of posting fee it'll take to land Darvish's negotiating rights, but I do think it'll be smaller than the $51.1M it took for Dice-K. Not much smaller, but smaller. The contract is almost an afterthought, but we're certainly talking about a four or five or more year package worth what? Definitely more than $20M since that's what Igawa got, so perhaps $40M? We're all just guessing at this point. I don't think a $100M total investment (posting fee plus contract) is out of the question.  The Yankees are doing their due diligence and will surely be involved in the bidding (there's no reason not to bid, right?), and I'm very interested in seeing how this plays out.