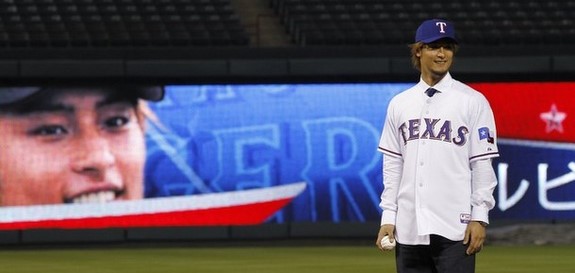 Jesse asks: What are your thoughts on the theory that the reason Cashman did not go all in for Darvish is not because he didn't like the idea of an imported pitcher, but because there were already rumblings of Pineda in pinstripes?
I'm not sure I buy that. Both Brian Cashman and Mariners GM Jack Zduriencik have acknowledged that talks about the Jesus Montero–Michael Pineda trade started at the winter meetings, which was just about a week before Yu Darvish was officially posted. We all knew he was going to posted so it wasn't some big surprise, it was just a matter of when. The Yankees most likely had made up their mind about whether or not to pursue him well in advance of the meetings and submitting their $15M bid. I can't imagine it was a spur of the moment thing.
I don't think their half-hearted attempt to acquire Darvish had to do with anything more than their questions about his ability to succeed in MLB, with a new ball, a new mound, smaller stadiums, better hitters, a five-day rotation, etc. If they had truly wanted him, Pineda wouldn't have stopped them. Trade talks were still in the early stages back then and weren't guaranteed to work out, so they could have gone down both paths and determined which was the better fit at a later time. Passing on Darvish because of Pineda could have easily resulted in them getting neither pitcher.
I'd much rather have Darvish and Montero than Pineda and [insert random DH here], but these things don't happen in a vacuum. It would have taken over $100M to land Darvish, who isn't a sure thing. Pineda isn't either, but he's also making the league minimum and has an above-average MLB season under his belt. Nine-figure Darvish and dirt cheap Montero for the next six years, or dirt cheap Pineda and say a $5M DH for the next five years? I was a big proponent of pursuing Darvish (not my money!) and there's a lot more upside in option #1, but also substantially more risk because of the money involved. I can understand why the team went with door #2 even if I don't necessarily agree with it. This calls for a poll…
{democracy:204}