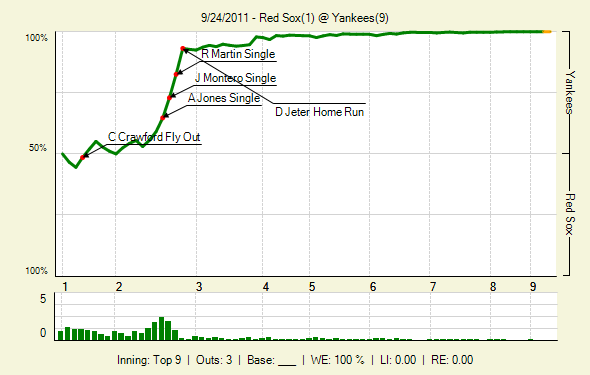 It's always fun beating the Red Sox, especially in blowout fashion, but it's even better when the game means a whole lot more to Boston because they're fighting for a playoff spot while the Yankees have already taken care of business. Let's recap…
The offensive explosion will get the headlines, but in my opinion the biggest story of the game was Freddy Garcia. He'd been struggling of late, no question about it, so six shutout innings against a great offense is very encouraging. It was a typical Garcia outing too, lots of weak pop-ups, about a baserunner an inning, a few ugly swings. At this point, he has to be considered the favorite to start the third game of the ALDS next week. That's subject to change by the day, though.
Okay, now we can talk about the offense. Jesus Montero was the star of the day, going 3-for-4 with a double to the wall in left-center and solo homer to right. He also saw 19 total pitches in those four at-bats, the most on the team. It's  obviously a small sample (58 plate appearances), but the kid is hitting .346/.414/.635, and that's pretty cool.
Russell Martin chipped in a two-run single on a ball that Carl Crawford should have caught, and one batter later, Derek Jeter made the Red Sox pay with a three-run homer to right. Nick Swisher had a hit and two walks, Andruw Jones two hits. The trio of  Curtis Granderson, Mark Teixeira, and Alex Rodriguez combined to go 0-for-12 with four strikeouts, but everyone else went a combined 9-for-21. The joys of having a  deep lineup.
The bullpen after Freddy was pretty good, though Raul Valdes and Cory Wade managed to allow a run in two-thirds of an inning.  Boone Logan, Luis Ayala, and George Kontos retired the final seven Red Sox batters of the game. Kontos has looked pretty good in his limited action, no? He struck out two and showed a nice little slider. Gotta figure we'll see a little more of him next season.
This game set a regular season attendance record for New Yankee Stadium at 49,556 fans. The previous record was 49,555, so they beat it by one fan. Anyway, this win coupled with the Tigers loss to the Orioles means the Yankees have clinched the best record in the AL and homefield advantage in the playoffs. Since the Mets swept their doubleheader against Phillies, the Yanks are just one loss back of their 2009 World Series  opponent for the best record in baseball. Here's the box score, here's the FanGraphs stuff, and here's the standings.
The Yankees and Red Sox will play a day-night doubleheader on Sunday,  wrapping up their season series. Ivan Nova and John Lackey A.J. Burnett and Tim Wakefield will start at 1pm ET and be followed by A.J. Burnett and Tim Wakefield Ivan Nova and John Lackey at 6:30pm ET. RAB Tickets can help get you into the Stadium if you want to catch one or both of the games, or you could come to Amity Hall and hang out with us at the FanGraphs event. Details here.