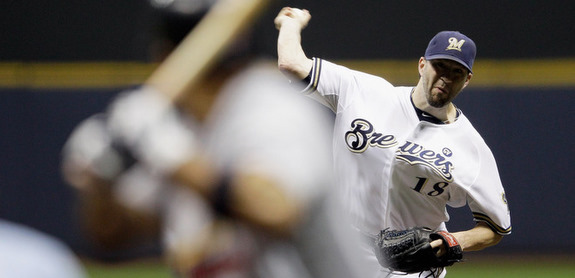 I don't do this often, because drumming up trade proposals is the safest way to look like an idiot on the baseball blogosphere. Usually I just come up with a possible trade target, state his qualifications, list what some similar players brought back in a trade, and leave it at that. I'm going to do something different this time, only because this deal seemed not completely insane when it came to me: Nick Swisher for Shaun Marcum.
Hear me out, I think it makes some sense for both clubs. I mentioned last week that one way or the other, the Yankees should pick up Swisher's option, even if they want to get rid of him. It's a below-market salary and it makes him a trade commodity, so that's the route they'd have to go to pull off this swap with the Brewers. Now let's dig into the details…
Their contracts are close to a wash.
Both Marcum and Swisher will be free agents after the 2012 season, and both comfortably project to be Type-A free agents at the moment. Swisher will be owed $10.25M once his option is picked up, and MLBTR's projections have Marcum at $6.8M his final time through arbitration. They do note that peers like Matt Garza, John Danks, and Jeremy Guthrie could lift that salary a little higher (perhaps into the $8M range), but even if they don't, a $3.45M gap isn't huge. I'd have to think the two sides could work that out.
Their performances are close to a wash.
Despite a sluggish finish (more on that in a bit), Marcum had a very strong year for the Brewers. He pitched to a 3.54 ERA (3.73 FIP) in 200.2 IP, his first time over the 200 IP plateau. That performance is pretty damn close to what he did for the Blue Jays in 2010 (3.64 ERA and 3.74 FIP in 195.1 IP), his first year back from Tommy John surgery. Over his last three years (that's 2008 plus 2010-2011 because of the elbow injury), Marcum has been worth 10.0 bWAR, a bit below Swisher's 11.4 bWAR during his three years in pinstripes. Perhaps the salary difference offsets the production difference.
Each team would be filling a need.
The Yankees need starting pitching, obviously. The free agent market is uninspiring beyond C.J. Wilson and Yu Darvish, the latter of whom isn't even a free agent (technically). Marcum brings four-plus years worth of AL East experience as well as less risk because he won't require a long-term contract. The Brewers will lose Prince Fielder to free agency barring some unforeseen miracle, and Swisher can step right in at first base and replace some of what they're losing in the middle of the order.
Each team would be dealing from a position of depth.
The Brewers are set to bring all five starters back next year, including swingman extraordinaire Marco Estrada (8.55 K/9 and 3.67 FIP this year). They will also have top-ish prospects Mark Rogers and Wily Peralta stashed away in Triple-A in case of emergency. If the Yankees have anything to spare, it's offense. They'd still boast one of the game's best lineups without Swisher.
* * *
Ultimately, I would say no to this trade if I was the Yankees, though I think it would be a lot easier for them to replace Swisher's production this winter than find a pitcher of Marcum's caliber. That doesn't mean they should run out and sign Carlos Beltran for multiple years, but they could dig up a productive right fielder. Hell, I bet a platoon of Chris Dickerson and Andruw Jones would be worth about three wins, and if not, it's easier to find a corner outfield bat than a starting pitcher at the trade deadline.
I do worry about how Marcum finished the season (35 runs in 34 IP across four regular season starts and three playoff starts), mostly because something might be wrong physically. He had the elbow surgery two years ago and dealt with a hip flexor strain this summer. Then again, he could have just hit a wall after going from 15.2 IP in 2009 (all minor league rehab) to 195.1 IP in 2010 following the elbow surgery. Marcum also has little room for error as a soft-tossing (fastball has averaged ~87 mph last five years) fastball-changeup specialist, especially one that gives up a lot of fly balls (39.2% grounders in his career) and doesn't miss a ton of bats (7.3 K/9 since 2008).
As Joe reminded us three offseasons ago, our trade proposals suck. I fully acknowledge that my trade proposal is dumb and extremely unlikely to happen, but I do think it's slightly less dumb than most of the proposals you'll find out there. There is reason for each team to explore a Swisher-for-Marcum swap, but at the end of the day, the Yankees would assuming too much risk while giving away too much certainty.