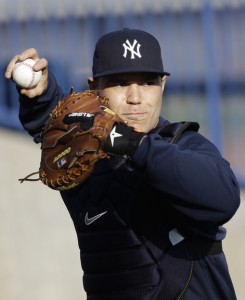 For a short time last winter it appeared that Jesus Montero would start the season behind the plate for the Yankees. Brian Cashman had announced the end of Jorge Posada's days behind the plate, and the only catcher who appeared ready was Montero. But it didn't take long for the Yankees to get involved on a free agent catcher.
A few years ago it appeared that Russell Martin would be the Dodgers' catcher of the future. After a solid 2006 season he broke out with a .368 wOBA in 2007, and followed that up with a .351 wOBA in 2008. He knew how to take a walk, hit for a solid average, and played excellent defense. But in 2009 things started to fall apart. He lost power and saw his batting average drop significantly. In 2010 things got even worse. Not only did he produce similar numbers, but he suffered a hip injury that limited him to just 476 PA. Rather than give him a raise over his $5.05 million 2010 salary, the Dodgers non-tendered him.
It came as little surprise that the Yankees showed immediate interest in Martin. While Montero generated plenty of buzz, there were still concerns about his ability to handle the catcher position in the big leagues. The safe bet, then, was to pursue a veteran catcher and try to ease Montero into the the role. They did just that in signing Martin. Amid some competition from AL East rivals they came in with the winning bid, a $4 million contract that included plenty of playing time bonuses. He earned every one of those incentives in 2011, bringing his total 2011 salary to $5.375 million.
To be sure, Martin was worth every penny of his incentivized salary. In April it looked as though he'd be an absolute steal, as he hit .293/.376/.587, including six homers. But once the calendar flipped to May his offensive production dropped off considerably. In his 391 post-April PA he hit .225/.313/.368 with 12 home runs. That did amount to 3.6 runs above average, though, which ranked 11th in the majors among catchers with at least 400 PA. That looks even better when considering Martin's total value, the bulk of which comes from his defense.
Catcher defense has long been an elusive element of analysis. A catcher is responsible for so many aspects of the game, and it's difficult to quantify many of them. But with so many sharp minds and increasingly accurate data, it was only a matter of time before someone, or someones, figured out a way. At this year's Pitch f/x Summit Max Marchi presented his findings, in which he stated that catcher framing can mean a swing of 40 runs at the extremes (i.e., the best catcher can add 20 runs while the worst can cost 20 runs). Baseball Prospectus's Mike Fast put together his own study of catcher framing, while The Hardball Times's Bojan Koprivica studied catcher blocking. These elements both favor Martin greatly.
According to Fast's study, Martin has been one of the best framers in the league over the last four years. He ranked second in the majors in total runs saved during that four-year period — to Jose Molina, of all people. Martin is also near the top of the league in runs saved per 120 games caught, but he also has far more playing time than those close to him. In the blocking study Martin came out even. Koprivica did provide us a great service, though, by combining Fast's study with his own, and further with the FanGraphs data on catcher arms, to create an adjusted WAR leaderboard for 2011. Martin gains a win and a half when considering these factors, and ranks sixth among all catchers in baseball. All for that cool $5.3 million.
While we can't attribute an improved Yankees pitching staff to Martin solely, he's tough to ignore in that regard. This year the Yankees staff produced a 3.73 ERA, which ranked 11th in baseball, and a 3.87 FIP, which ranked 13th. Last year they had a 4.06 ERA (15th) and 4.34 FIP (25th). Considering how well Martin graded out in the catcher defense studies, it stands to reason that he played a significant role in that improvement.
There are two things a team can do to win ballgames: score runs and prevent them. Martin didn't do much in the way of scoring runs, though he did produce above-average numbers, which is no small accomplishment from the catcher position. His greatest contribution, however, came on defense. He's one of the best in the game, and that benefits the Yankees in many ways. It's also a joyful sight to see, after watching Jorge Posada, one of the game's worst defensive catchers, for the past decade-plus. That's no slight on Jorge, given his offensive contributions. It's just that Martin was just as valuable, but in a different way.