Conor asks: After your post on Darrell Rasner, I started thinking about what the best all-time Yankees' lineup would be when made up of guys who played less than 162 games or made less than 30 starts for them. Not that Rasner would be on that team, it just got me thinking. Hopefully I get to see what you guys come up with.
Questions like this are why the Baseball-Reference Play Index exists. I used the 162 games/30 starts maximum and sorted by WAR, just because it's one nice easy number. If you click the links next to each position, they'll take you to the full Play Index search results, since I know many of you are dying to see them. Some of these guys weren't actually part-time players, but they all were short-lived Yankees. Here's the lineup…
Catcher (link)
The leader here is Frank Fernandez, who appeared in 149 games for the Yankees from 1967-1969. He managed to rack up 4.1 WAR during that time, most of it during the 1969 season (2.2 WAR). Interestingly enough, Fernandez hit just .204 in exactly 500 plate appearances with New York, but he had a .372 OBP. He drew 102 walks and had just 80 hits in pinstripes. How about that? The Yankees traded Fernandez to Athletics after 1969, and he played only 136 more games in the show. Russell Martin ranks fourth on this list with 1.3 WAR in 125 games.
First Base (link)
I was hoping it would be Doug Mientkiewicz, but alas, it's someone named Buddy Hassett. He played 132 games for the 1942 Yankees, mustering 1.2 WAR. That was the final season of his seven-year career, most of which was spent with the Brooklyn Dodgers and Boston Bees. Hassett hit .284/.325/.364 in pinstripes. Mientkiewicz is second on the list at 0.8 WAR, followed by John Olerud (0.7 WAR).
Second Base (link)
I had a feeling this post would consist of a lot of guys I'd never heard of before, and so far we're 3-for-3. The top second baseman is Jimmie Reese, who was worth 1.2 WAR in 142 games from 1930-1931. He hit .286/.331/.402 in 468 plate appearances during those two years, then was sent to St. Paul of the American Association after the season to complete an earlier deal. Reese resurfaced with the Cardinals later than summer, but it was his final season in baseball. Mariano Duncan is next in line at 1.0 WAR, and I'm guessing most of which comes from his signature phrase: "we play today, we win today, das it."
Shortstop (link)
Yeah, another guy I haven't heard of. This one is Willy Miranda, who racked up a whopping 0.8 WAR in 140 games from 1953-1954. He hit just .241/.295/.322 in 194 plate appearances after being purchased from the St. Louis Browns. Miranda was traded to the Orioles with nine (!!!) other players for Don Larsen, Bullet Bob Turley, and five others. Teams need to start making trades like that again. Tony Fernandez, the guy who got Wally Pipp'd by Derek Jeter, is third on the list (0.5 WAR).
Third Base (link)
Playoff performance doesn't count here, but I have imagine Aaron Boone's third base leading 1.0 WAR would be higher if we counted his homer in Game Seven of the 2003 ALCS. He's the leader at the position by far (0.7 WAR ahead of the next few players), hitting a modest .254/.302/.418 in 208 plate appearances and 54 games. We'll always have that homerun though.
Left Field (link)
We're going all the way back to 1935 for the leader in left, Jesse Hill. Mr. Hill hit .293/.362/.390 in 444 plate appearances across 107 games that season, piling up 1.8 WAR. That was his rookie year, and after the season the Yankees traded him to the Washington Senators for a guy named Bump Hadley. That's awfully close to Perd Hapley. A bunch of recent Yankees rank second (Rondell White), third (Xavier Nady), fourth (Andruw Jones), and fifth (Austin Kearns) on the list.
Center Field (link)
The Yankees officially changed their name from the New York Highlanders in 1913, and that's how far back we have to go for our center fielder. A gentleman by the name of Harry Wolter accumulated 1.8 WAR in 127 games that season, hitting .254/.377/.339 in 521 plate appearances. We are cheating a bit here, because Wolter had been with the Highlanders since 1910. If we're disqualifying him, then the leader is another Harry, Harry Rice. He was worth 1.6 WAR in 100 games in 1930. Kenny Lofton is tied for third on the list with 0.7 WAR.
Right Field (link)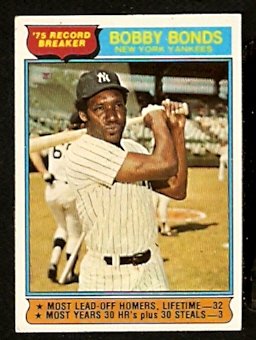 The MVP of our team is the father of a seven-time MVP. Bobby Bonds played just one season in New York after being acquired from the Giants in exchange for Bobby Murcer, but during that one season he hit .270/.375/.512 and became the first 30-30 player in Yankees history. That performance was valued at 5.2 WAR in 1975, but he was traded again after the season, this time to the Angels for Ed Figueroa and Mickey Rivers. Someone named Tim Hendryx racked up 2.6 WAR in 153 games from 1915-1917, finishing a distant second to Bonds on our right field list.
Designated Hitter (link)
The DH pickin's are pretty slim, but Big Daddy Cecil Fielder managed to crank out 0.7 WAR in 151 games and 653 plate appearances from 1996-1997. He hit 26 homers and put up a .260/.352/.440 batting line. Number two on this list? Some kid named Jesus Montero, who hit .328/.406/.590 and was worth 0.5 WAR in 18 games for the 2011 Yankees. If we include guys that played just half of their games at DH (rather than the 75% I had been using), then Jack Clark's 1988 season is your leader at the position (3.1 WAR).
One player worth mentioning here is Glenallen Hill. He only played in 40 games for the Yankees, split between DH and left field and pinch-hitting, but he managed to accumulate 1.4 WAR in pinstripes. That's what happens when you slug 16 homers in 143 plate appearances. That's rooftop power, as they say.
Starting Pitchers (link)
The starting rotation is surprisingly strong, and led by a former Cy Young Award winner. Black Jack McDowell spent just one year in pinstripes (1995), but he made exactly 30 starts and was worth 4.0 WAR in 217.2 IP. I'll always remember him for flipping the bird to the Yankee Stadium faithful though. The number two starter might not qualify for this list within the next seven months or so, it's Freddy Garcia. Sweaty Freddy was worth 3.4 WAR in 26 starts this past season, and there's still a chance he'll be back for more in 2012.
McDowell and Garcia are pretty well separated from the rest of the pack, but the mix of guys behind them is quite interesting. We've got Larry Gura (2.7 WAR in 28 starts from 1974-1975), Pascual Perez (2.6 WAR in just 17 starts from 1990-1991), and then Don Gullett (30 starts in 1977) and John Candelaria (30 starts from 1988-1989) tied at 2.5 WAR. Bartolo Colon (2.4 WAR in 24 starts this season) and Jon Lieber (2.3 WAR in 23 starts in 2004) are right there as well. Rasner, the inspiration for this post, is 23rd on the list at 0.2 WAR in 29 starts. He's just behind Denny Neagle (0.2 WAR in 15 starts) and just ahead of Carl Pavano (-0.1 WAR in 26 starts) and Babe Ruth (-0.3 WAR in four starts).
Relief Pitchers (link)
Since Conor didn't give me any playing time criteria for the relievers, I used a cutoff of 60 appearances. That's roughly a full season of work for a typical reliever. Our bullpen ace would be Fred Beene, who threw 158.2 IP across 54 appearances from 1972-1974. His 1.99 ERA was good for 2.4 WAR. Number two on the list is Al Aceves, who racked up 2.1 WAR in 59 appearances and 126 IP from 2008-2010. Our two left-handed relievers are Grant Jackson (1.6 WAR in just 21 games in 1976) and Dave LaRoche (1.4 WAR in 52 games from 1981-1983), father of Adam and Andy.
The rest of the bullpen is filled out by the likes of Doug Bird (1.8 WAR in 38 games from 1980-1981) and a bunch of recent Yankees. Kerry Wood managed to be worth 1.5 WAR in his 28 appearances last season, and the duo of Luis Ayala and Cory Wade were worth 1.4 WAR and 1.3 WAR this season, respectively. Our depth pieces are Jeff Robinson (1.3 WAR in 54 games in 1990) and Ray Scarborough (1.2 WAR in 32 games from 1952-1953). Pretty interesting mix of guys, though it's not surprising many of them have played in a recent past given the continued evolution of the modern bullpen.