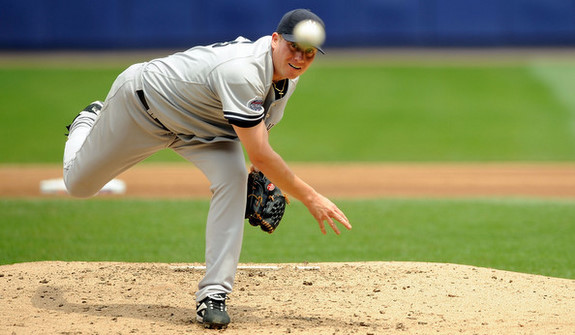 From waiver wire fodder to rotation regular, Darrell Rasner is little more than a footnote in Yankees history. He made a total of 29 starts and seven relief appearances for New York from 2006-2008 (most coming in 2008), pitching to a 5.06 ERA and a 4.70 FIP in 158.1 IP. His best career start came on May 21st of his final season in pinstripes, when he held the Orioles scoreless over seven innings.
Three years ago today, the Yankees sold Rasner to the Rakuten Golden Eagles of Japan's Pacific League at his request. They received a million bucks in return, and Rasner received a new two-year contract and some financial security for his family. He pitched to a 5.09 ERA in 233.2 IP during the life of the contract, then inked another one-year deal with an option last winter. I don't know what happened this season, but Rasner appeared in just one game (three shutout innings with five strikeouts) for Rakuten. Perhaps he got hurt? I don't really know. No decision has been made on his option yet (their season is still being played), but hopefully he lands back on his feet.
* * *
Here is your open thread for the night. All three hockey locals are in action (the Rangers and Islanders against each other), but you can use this thread to talk about anything you want. Have at it.