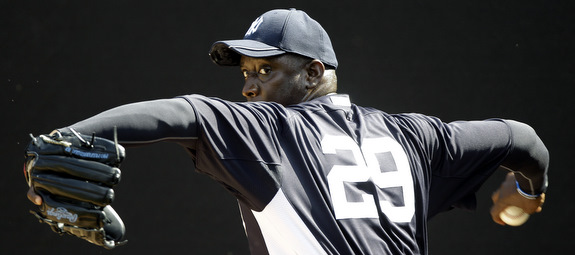 Kevin asks: Does Rafael Soriano have a no-trade clause? If he doesn't, his $9 million a year contract might look good for other teams in the market for a closer after seeing what Jonathan Papelbon got for his contract. Is that feasible? And what kind of value can the Yankees get back?
Soriano's contract does not have any kind of no-trade protection, but it's also not worth $9M per year. He'll make $11M in 2012 then another $14M in 2013. Papelbon's contract (four years and $50M with a fifth year vesting option) is pretty ridiculous, but I don't think it makes Soriano more attractive to other teams for a number of reasons.
For one, Papelbon is just straight up better than Soriano, he's better and he doesn't come with the same injury concerns. Remember, Rafi is coming off a disappointing season that included nearly three months on the shelf with an elbow problem. Secondly, the two contracts are worth just about the same amount of money in average annual value, so you're getting a lesser reliever for the same amount of cash. The only difference is that you're getting two years of Soriano instead of four years of Papelbon. Thirdly, instead of giving up a draft pick, you're giving up some kind of non-useless player in a trade, and that non-useless player has more value than a draft pick, even a first rounder.
You don't see too many high-end relievers get traded these days, but we do have a decent comparable in Mike Adams. The Rangers gave up two pretty good (but not elite) Double-A starting pitching prospects for a year and a half of Adams, but his salary is about a quarter of Soriano's, maybe a third if he gets a big arbitration raise this winter. He's also better than Soriano, and has been healthier in recent years (he's definitely had his own injury problems though). You've got to adjust down a bit because of those two factors, so instead of two pretty good Double-A prospects, you'd be getting what … one good Double-A prospect? Maybe a useful Triple-A player that figures to be a bench player or something? I really don't know, I'm just thinking out loud.
Either way, I can't imagine the return will be enough to justify a trade. I'm no fan of Soriano's contract, but he can definitely be a valuable member of the team when healthy. If anything, I'd say wait until Joba Chamberlain comes back from Tommy John surgery to trade him. If they end up moving Soriano this offseason then lose David Robertson (or even Mariano Rivera) for a period of time, suddenly the bullpen is real short and we're looking at Boone Logan, Eight Inning Guy™. We didn't see the real Soriano this season, but let's hope we do in 2012.