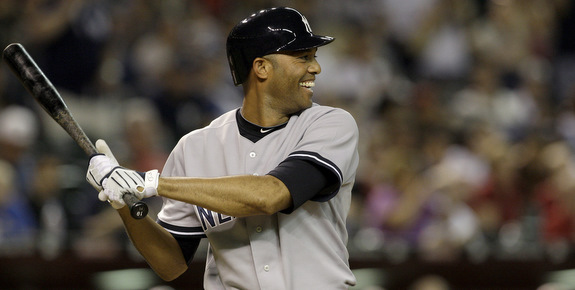 Mariano Rivera was a bit of a late bloomer. He didn't make his big league debut until he was 25 years and five months old, the same age Phil Hughes is right now. Rivera's first full year in the show came during his age 26 season, his first of a dozen (and counting) All-Star appearances came during his age 27 season, and he didn't close out his first World Series game until he was a few weeks shy of his 29th birthday. That seems like such a long time ago, and it is. Nearly a decade-and-a-half.
Today is Mariano's birthday, his 42nd. Number 42 for number 42. He's still as good as ever, a god among men in baseball's most volatile position. This past season he claimed the all-time saves record, but it wasn't much more than a blip on the radar. Everyone knew Rivera was the greatest closer of all-time long before that, he didn't need some silly record to make it official. The 2012 season might be Mo's last, we don't know, but part of me is convinced that he could close out games until he's 50. I hope he does.
After you're done wishing Mo a happy birthday, use this as your open thread for the night. Both the Islanders and Rangers are playing tonight, so there's that. Talk about whatever you like, have at it.