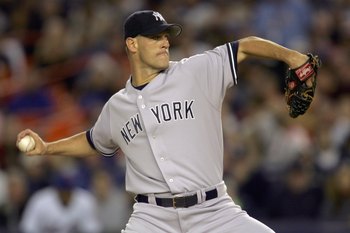 Does anyone represent the Yankees' success with scrap heap pickups any better than Aaron Small? He was brought him in for minor league depth not long before Spring Training in 2005, but injuries and ineffectiveness at the big league level had him up as an emergency starter in late-July despite a 4.96 ERA in ten Triple-A starts. He won that first game but it wasn't pretty; he allowed three runs and four walks in 5.1 IP against the Rangers, but a win is a win. Small made another start eight days later and held the Mariners to three runs in seven innings. The team needed pitching, so he kept getting the ball.
What was supposed to be a short-term, emergency starter thing turned into a regular rotation spot. Small famously finished the season with a 10-0 record, but he only made nine starts. He picked up one win out of bullpen in extra innings, and another in three innings of long relief. Small allowed two runs in 2.2 IP in his only ALDS outing against the Angels, a relief appearance in Game Three. The 10-0 record and 3.20 ERA looked great, the performance was entirely unsustainable. He wasn't missing any bats (4.4 K/9) and wasn't getting a ton of ground balls (43.9%), so something had to give.
Nevertheless, the Yankees signed Small to a one-year deal worth $1.2M as an arbitration-eligible player after the season. He started the 2006 season in the bullpen as the long-man, but he was just awful. In three starts and eight relief appearances, he allowed 29 runs and put 55 runners on base in just 27.2 IP. The fairytale story came to an end in late-June, when the Yankees designated Small for assignment. He finished the season in Triple-A and was out of baseball after the season.
After his career was over, Small returned home to Tennessee where he an his wife are active in their church. He survived a bout with encephalitis in 2008, which is an acute inflammation of the brain. He was in a medically induced coma for eight days, then six weeks later he was on the field for the final Old Timers' Day at the Old Yankee Stadium. Today is Small's 40th birthday, the big four-oh. It's somewhat fitting since the story of his playing career is ten-and-oh.
* * *
Here is your Thanksgiving Eve open thread. All three local hockey teams are in action, otherwise you're on your own for entertainment. You folks know how these things work, so have at it. The thread is all yours.