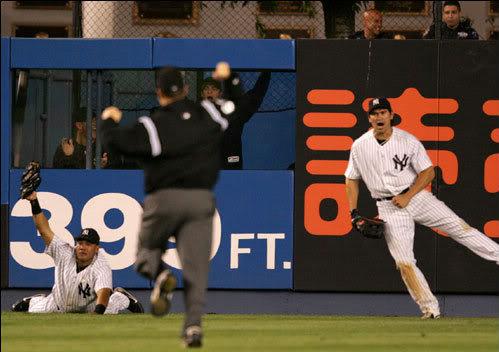 I was never much of a Melky Cabrera fan, mostly because the hype got completely out of control early in his career. People were calling him the next Bernie Williams, and that was nothing short of insane. But just because I wasn't the guy's biggest fan doesn't mean I won't acknowledge that he was a useful player. He played fine defense in the corner outfield spots and was passable in center, plus he made lots of contact and would run into the occasional mistake pitch. Melky was the perfect fourth outfielder, he just ended up playing everyday most of the time.
The Yankees signed Melky out of the Dominican Republic on this date ten years ago, paying him a $175k signing bonus. He was a fan favorite because he played with a lot of energy and had a knack for walk-off hits, plus the cool name didn't exactly hurt his cause. As far as I'm concerned, there's not a damn thing wrong with that.
In other historical Yankees transactions news, today is also the 20th anniversary of Ramiro Mendoza signing as 19-year-old free agent out of Panama, and it's also the third anniversary of the Nick Swisher trade heist. So hooray for that.
* * *
Here is your open thread for the night. The late football game as the Patriots at the Jets (8:20pm ET on NBC), and the Islanders are playing on the west coast a little later on. You can talk about anything you want here, the thread is all yours.