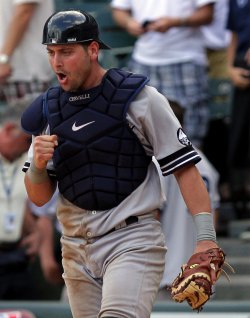 The Yankees' deep catching corps could start paying off soon. Two of their young catchers, Jesus Montero and Austin Romine, have already made their Major League debuts. Both of their names have surfaced in various trade rumors and speculations, and there is a chance that the Yankees could trade one this off-season in a deal for an impact pitcher. If that impact pitcher does not surface, or if the Yankees find the price prohibitive, they can use their catching depth in other ways. Given a few recent deals, they might have another catcher of value on the roster.
Despite his status as occasional punchline at RAB, Francisco Cervelli is not a bad player. At time his play frustrates. Many of his mistakes seem boneheaded and avoidable; his throws are often inaccurate to the point of hilarity; and it appears he stabs at pitches and drags them back over the plate, which is the poorest of framing methods. While those do hinder what could be a better overall game, Cervelli does provide some value. In the last two seasons, as the Yankees' primary backup catcher, he has produced a .317 wOBA, which is only slightly below league average. That includes a .348 OBP, which ranks 13th among all catchers with at least 450 PA*.
*An admittedly arbitrary sample size which Cervelli barely fulfills.
With the possibility of Montero fulfilling the backup catcher role while also DHing, and with the further possibility of Romine transitioning to the bigs as a backup, Cervelli could be expendable. He might be a tough sell at this point, given the frequency and recency of his concussion history. Still, he's been pronounced fully recovered, and it sounds as though he'll be raring to go for spring training. He might end up reporting to a location other than Tampa for it.
In the past week or so, two catchers have changed teams in relatively minor deals. First the Marlins traded John Baker to the Padres for Wade LeBlanc. Then, yesterday, the Rays traded John Jaso to the Mariners for Josh Lueke. The returns might not be overwhelming, but both the Marlins and the Rays realized returns for catchers similar to Cervelli. Jaso might seem superior, because he produced quality numbers in 2010. But his 2011 negated much of that. The result is a .318 wOBA (101 wRC+) in 687 career PA. Baker has been around a while, but injuries have hindered his career. In 760 career PA he has a .333 wOBA (99 wRC+). Both of them, then, are average hitters who are both at least two years older than Cervelli (.308 wOBA, 85 wRC+ in 560 PA).
A few teams could remain in need of a catcher. Minnesota might want a caddy for Joe Mauer who is a bit better than Drew Butera (.215 wOBA, 28 wRC+ in 409 career PA). Anaheim has been on the market for a catcher who can hit better than Jeff Mathis (.246 wOBA, 45 wRC+ in 1360 career PA). Houston could use someone younger and better than Humberto Quintero (.258 wOBA, 54 wRC+ in 1137 PA). LA might need someone now that Rod Barajas has gone (does Matt Treanor actually count?). Colorado has reportedly been mulling the idea of signing Ramon Hernandez and trading Chris Iannetta. Perhaps they'd be amenable to trading for Cervelli instead. That's a considerable list, and it includes only the obvious candidates. Cervelli would almost certainly perform better than any of their current options.
The issue with trading Cervelli is the same one that Mike found when valuing Eduardo Nunez: is Cervelli worth more to the Yankees or to another team? As a Yankee he provides some experience as a backup catcher, allowing them to work in Jesus Montero at his own pace. It also allows them to give Austin Romine some time at AAA. He also ensures a certain level of depth in the system. Is that worth more to the Yankees than what they could get on the trade market? Judging by the Jaso and Baker trades, the Yankees might not find much to their liking.
Wade LeBlanc, who went to the Marlins in the Baker deal, is a soft-tossing lefty with a poor ground ball rate. He's had success in limited runs, but even pitching in the spacious confines of Petco Park did little to aid his home run rate. At age-27 there's little hope he'll reach a level significantly above replacement. Josh Lueke has a bit more promise as a strikeout reliever. He posted quality minor league numbers at many levels, including AAA. Yet even with his promise Lueke comes with plenty of personal baggage, which obviously reduces his value. That is to say that neither Baker nor Jaso fetched much in a trade. That could tip the scales towards the Yankees keeping Cervelli.
I the Yankees want to cash in on Cervelli, chances are they'll have to sell him as part of a bigger package. They could probably shop him on his own to a few teams, but they might not realize much in return. As a second or third chip in a larger deal, however, he could prove valuable. At the same time, that makes a deal less likely; the Yankees would have to find a player they really liked on a team that needs a catcher, and base the offer around another player. Chances are, then, that Cervelli provides more value to the Yankees than he does on the market. Which is just fine. Minus some boneheaded mistakes, he's actually provided some decent value for the Yanks in the last two years.