The Angels agreed to sign both Albert Pujols and C.J. Wilson this morning, but the Yankees managed to steal the spotlight with their moves during the Rule 5 Draft. Okay, I may be exaggerating a bit. The Yankees selected 26-year-old right-hander Brad Meyers from the Nationals with their pick, then later acquired 22-year-old left-hander Cesar Cabral from the Royals for cash. He was Kansas City's pick from the Red Sox organization. The Yankees did not lose any players during the Rule 5 Draft, and Greg Golson has been released to make room on the 40-man roster.
Meyers was Washington's fifth round pick in 2007, and Baseball America ranked him as their 27th best prospect prior to last season. "Meyers pounds the zone with a polished four-pitch mix," they wrote in their Prospect Handbook. "His 88-90 mph fastball bumps 92, and it plays up because of the deceptive angles created by his lanky body [Ed. note: 6-foot-6, 195 lbs.] and high front side in his delivery (video). He has excellent command of his fastball and three secondary pitches: an average changeup, average slider and a short curve that he uses as a show pitch."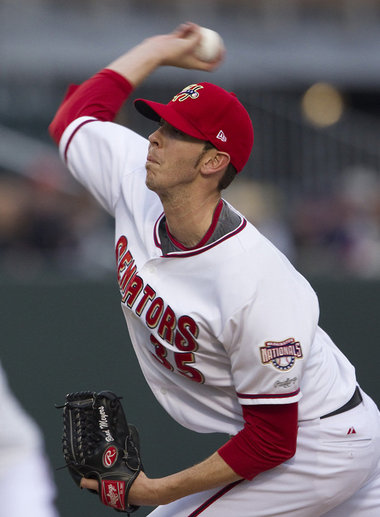 The problem with Meyers has been health, specifically foot problems. He missed some time with a heel injury in 2009, then suffered a stress fracture in his left foot while jogging after the season. He had surgery, returned to the mound, then missed more time because some screws in his foot were giving him trouble. Meyers made 24 starts (and one relief appearance) in 2011, pitching to a 3.18 ERA with 7.5 K/9 and a miniscule 1.0 BB/9 in 138.2 IP. The Yankees are almost certainly looking at him in a long relief role. As per the Rule 5 Draft rules, they must carry him on their 25-man active roster all season or put him on waivers and offer him back to the Nationals.
Cabral is in a slightly different situation. He was a Rule 5 Draft selection last year, so if the Yankees don't keep him on their active roster but he clears waivers, they don't have to offer him back to Boston. He can elect free agency if that happens though. Cabral was in the Rays organization at this time last year, though he did not crack their top 30 list in the Prospect Handbook. He owns a low-90's fastball with a changeup that's better than his breaking ball, so that doesn't exactly make him a traditional lefty specialist candidate. Sure enough, he had a reverse split this season and has in the past as well. Here's some video.
The Yankees apparently liked Cabral enough that they tried to trade with Astros, Twins, and Mariners — owners of the top three picks in the Rule 5 Draft — to make sure they got him. The ended up making the deal with the Royals, who picked fifth. Due to waiver claims and such, Cabral has now been part of the Yankees, Red Sox, Rays, and Blue Jays organizations in the last year or so. Both he and Meyers will audition for jobs in Spring Training, but as is always the case with these guys, they're unlikely to stick.