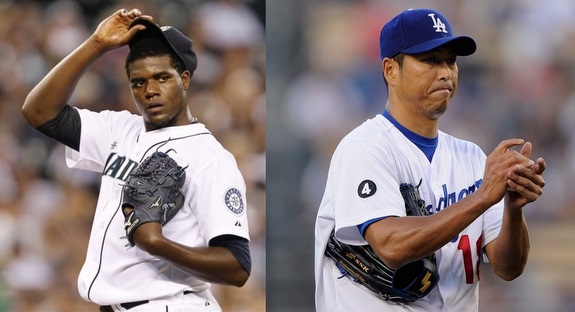 After a winter of all talk and no action, Brian Cashman made his two biggest moves in roughly two years in the span of an hour or so last night. First he acquired Michael Pineda and Jose Campos from the Mariners for Jesus Montero and Hector Noesi, then he agreed to sign Hiroki Kuroda to a one-year deal worth $10M. Just like that, the rotation went from question mark to strength. Freddy Garcia, A.J. Burnett, and Phil Hughes went from the three, four, and five starters to fighting  for one rotation spot. It's pretty awesome.
We're going to analyze these moves from every freakin' angle in the coming days, I'm sure of it, but for now let's start with a collection of thoughts and links…
Cashman said over and over again that he didn't like the pitching prices this offseason, and sure enough his patience was rewarded. After four years of Mat Latos and Gio Gonzalez were each traded for a package of four young players earlier this winter, Cashman got five years of Pineda for just two young players, and he got the Mariners to kick in another prospect as well. Pineda was a steal compared to Latos and Gio.
My prospect game is slipping with age, and frankly I had never heard of Campos until the trade. Baseball America provided a full scouting report on the right-hander in their trade analysis, which I recommend reading to familiarize yourself with him. It's free, you don't need a subscription. Both Kevin Goldstein and John Sickels considered him the fifth best prospect in the M's system.
There are a lot of great trade recaps out there, but I highly recommend Lookout Landing's. Jeff Sullivan killed it when he wrote about the emotional disappointment involved with trading young players. We're all going to miss Montero, but the fans in Seattle feel the same way about Pineda.
Assuming he throws a substantial amount of innings, I bet Noesi has a really good year in that division and in that ballpark with that defense next season. Don't be surprised if he outpitches Pineda in terms of ERA and people are declaring him the "real loss" in the trade by the end of the year.
I honestly have no idea what they're going to do with that last rotation spot, assuming CC Sabathia, Ivan Nova, Pineda, and Kuroda are locks for the first four spots (in some order). Chances are the Yankees don't even know what they're going to do either, and I bet my opinion about what they will/should do will change by the day. Is there a right answer? I'm not sure.
I also don't know what the Yankees will do about their now vacant DH spot, but I highly doubt they'll sign Prince Fielder. I mean, maybe if he's willing to do a one-year, $20M "pillow" contract, but I wouldn't hold my breath. I think they're more likely to start the year with a rotating DH than they are to sign or trade for a new one.
The ESPN Stats & Info Blog put together a great statistical look (with heat maps!) at Pineda, Kuroda, and Montero. It's relatively short and painless, but informative.
I'll close with this: it never ceases to amaze me how the Yankees — in the biggest media market in the sport — manage to pull off these deals with no leaks. Pretty much everything they do is a surprise. We heard nothing about their interest in Pineda until after the trade was made, and although we knew they liked Kuroda, we never heard they were close to a deal. The quiet weeks earlier in the offseason were frustrating, but the surprise sure is fun.