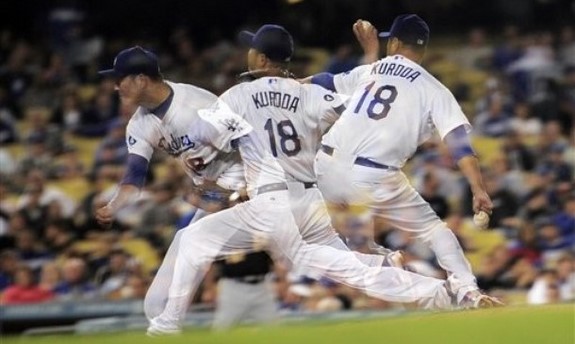 Rotation problem? What rotation problem? Less than an hour after acquiring Michael Pineda from the Mariners, the Yankees agreed to sign Hiroki Kuroda to a one-year deal worth $10M according to Jack Curry and Joel Sherman. The right-hander still has to pass his physical, and Buster Olney says Hal Steinbrenner approved an expanded budget to sign him. The Yankees will not have to give up a draft pick.
I, and really all of us at RAB are Kuroda fans and have been pining for him this offseason, so it goes without saying that we like the contract. Kuroda isn't a star but he's a rock solid veteran pitcher that will give the team innings and a chance to win basically every time out. He misses bats (7.23 K/9 and 19.4 K% last two years), limits walks (2.19 BB/9 and 5.9 BB%), and gets ground balls (47.1%), so he does everything someone needs to do to succeed in a tough environment.
It's worth noting that Russell Martin knows Kuroda from his Dodgers days, so that should help the right-hander with the adjustment to the new league, the tougher ballpark, basically everything. Also, the Yankees recently hired Kenji Nimura, who was Kuroda's translator with the Dodgers (caption of picture #10). He'll have a similar role here, so that should help as well. Apparently he speaks fluent Spanish and Japanese, so I doubt he was brought in specifically for Kuroda, especially since the hiring occurred earlier this offseason.
It sounds crazy given where they were a few hours ago, but the Yankees now actually have a ton of pitching depth. Pineda and Kuroda will join CC Sabathia and Ivan Nova in the rotation, leaving A.J. Burnett, Freddy Garcia, and Phil Hughes to duke it out for the fifth starter's spot. A trade is always possible, but pitching depth is never a bad thing.