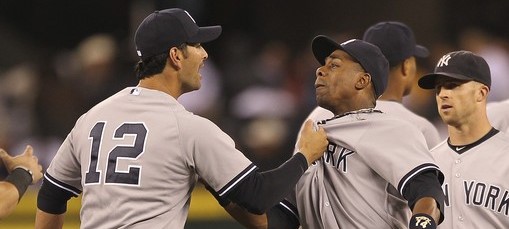 The writing was on the wall as soon as A.J. Burnett was traded to Pittsburgh. First the Yankees signed Raul Ibanez to serve as the left-handed half of the DH platoon, and now they've re-signed Eric Chavez to fill out the bench. The guaranteed one-year contract is still pending a physical, which is no slam dunk given Chavez's injury history. Jon Heyman and Ken Rosenthal say the deal is worth $900k with incentives.
Chavez, 34, produced a powerless (.094 ISO) .294 wOBA in 175 plate appearances last season, missing nearly three months with a broken bone in his foot. He did play surprisingly excellent defense at the hot corner (not so much at first because of inexperience), and I say surprising only because I thought all the back and shoulder injuries would have taken a toll on his glovework. Chavez did have a knack for big hits (.419 wOBA with men in scoring position), but we're only talking 47 plate appearances.
The Yankees will need to make a 40-man roster move to accommodate Chavez, though they can slide either Joba Chamberlain or Pedro Feliciano to the 60-day DL. I have a hard time believing there were so many other clubs willing to sign him that the Yankees had to offer a big league contract, but what's done is done. Would have been nice to at least fake some competition in camp before essentially finalizing the bench.