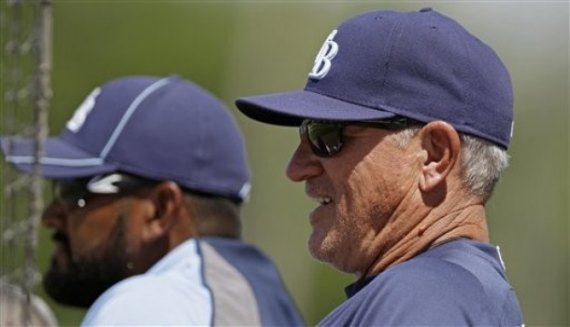 The Tampa Bay Rays have made life quite difficult in the AL East. Previously a two-team powerhouse, the East saw Tampa Bay's rise to prominence in 2008. That year the Yankees boasted the fourth-best record in the American League, but missed the playoffs thanks to Tampa's presence atop the standings (among other factors). The Rays sunk a bit in the 2009 season, but in 2010 they came back to win the AL East, and then made the playoffs as the Wild Card in 2011. They return in 2012 with a slightly heftier payroll. Will it be enough for a third straight playoff berth?
Tampa Bay's chances — and, really, everyone's chances — have increased thanks to the second Wild Card spot. But it's not Tampa's bid for a Wild Card spot that should have Yankees fans worried. They've built another strong team in 2012, one that will likely contend for the AL East crown. They're the early-season sexy picks for the title, too; ESPN.com's Buster Olney dubbed them baseball's best team earlier this year. Let's take a closer look at what makes them tick.
Starting Pitching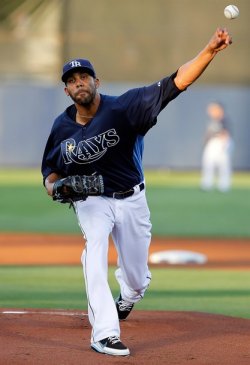 Once again, the Rays will go with a homegrown rotation in 2012. For the last 165 games they've used a homegrown starter, an MLB record. They will, however, finally use a starting pitcher over the age of 30 in 2012, the first time since 2007. To compensate, they'll also employ one of the youngest and most highly touted pitchers in the league. In other words, the Rays will again boast a formidable pitching staff.
The rotation starts with James Shields, who will face CC Sabathia on Opening Day next Friday. He's been a workhorse since his full-season debut in 2007, making at least 31 starts and pitching at least 203 innings in each year (and in all but one year he pitched at least 215 innings, including nearly 250 last year). Last season Shields held the Yankees in check, allowing just 10 runs in 38.2 innings, striking out 31 to just 10 walks.
While Shields has been impressive on his own against the Yankees in the last three years, throwing 81.2 innings in 12 starts to a 3.20 ERA, they have gotten the best of him; Shields is just 4-5 against the Yankees in that time. Then again, Shields has pitched a bit better against the Yankees in that span than he has overall. From 2009 through 2011 he sports a 3.96 ERA, which is league average.
After Shields, the Rays have lefty David Price as a strong No. 2 starter. He can even be considered the staff ace, despite Shields holding that spot nominally. Price's 2009 debut was rough, but that can be expected of a 23-year-old in baseball's toughest division. He came back in 2010 to produce one of the best seasons in the AL, even finishing second in the Cy Young voting. His ERA jumped in 2011, but all of his peripherals improved. Most notably, he trimmed nearly a walk per nine off his rate. If he can continue striking out nearly a batter per inning while refusing to walk too many batters, his results will follow.
The 2011 AL Rookie of the Year Award recipient fills the third spot in the Rays rotation. Jeremy Hellickson got off to a rolling start last year, throwing 189 innings to a 2.95 ERA. He's not exactly a strikeout artist, and he didn't demonstrate great control in 2011. In fact, his peripherals were fairly mediocre. But he does have a chance to take a step forward in 2012.
The big difference between the 2011 and 2012 Rays rotations is Matt Moore. One of the game's most highly touted prospects, Moore will get his chance in the rotation. It's hard to undersell his potential. He simply plowed through the minors, dipping below 12 K/9 just once — and even then it was 11.5 K/9. He's going to give the Yankees fits for years to come. If everything goes well, he'll join Price atop the rotation, leaving little room to miss Shields once the Rays inevitably trade him.
Bullpen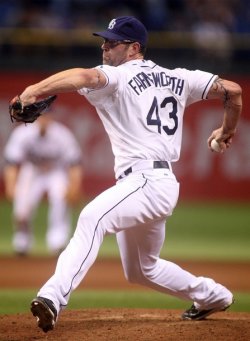 It might be easy for a Yankees fan to write-off a bullpen that features Kyle Farnsworth as closer, but he's not the same Farnsworth that plagued the Bronx from 2006 through mid-2008. He has found some semblance of control, which has in no small way led to his prominence in the last few years. He'll get the nod again as closer in 2012, but he has some reinforcements.
Joel Peralta is a name that probably doesn't register on many Yankees fans radars.
Since debuting in 2005, at age 29, he's pitched for five different teams. Yet he's been quite effective in the last two seasons. In that span he has boasted a 2.55 ERA in 116.2 innings, striking out 8.5 per nine while walking just 2.1. One of his big assets has been the ability to suppress hits. He has allowed just 5.7 per nine in that span, which leads to an otherworldly 0.87 WHIP. His key is the splitter, which he uses to generate swings and misses as well as poor in-air contact.
The Rays have some depth behind those two late-inning guys as well. Jake McGee had a middling 2011, mostly due to his home runs allowed. If he can get them under control he'll provide some power out of the pen. Wade Davis, who just lost the fifth starter competition to Jeff Niemann, could very well be one of those guys who flourishes in the pen after struggling in the rotation. There's also Fernando Rodney, whom the Rays brought in on a flier, and J.P. Howell, who, given his injury history, is also essentially a flier.
Even with some riskier guys at the end of the pen, the Rays do have some depth to cover them. There's Josh Leuke, whose fastball command, combined with quality breaking ball and splitter, could provide value out of the pen later in the year. Brandon Gomes, who pitched well in his 37 innings out of the pen last year, could provide reinforcements later as well. Combine those with a few other up-and comers, and the Rays do have some pen depth this year. That afford them the opportunity to take risks with guys like Howell and Rodney.
Offense
In 2011 the Rays actually finished with a below average AL offense, scoring just 4.36 runs per game. The Yankees actually scored one run per game more than the Rays, which is no small difference when spread over 162 contests. They have, however, added a few key pieces this off-season that could boost their offensive profile.
At first base the Rays were particularly abysmal. They hit a combined .288/.357/.388, placing them 13th out of 14 AL teams in OPS. To help remedy the issue they brought back Carlos Pena, who spent 2011 with the Cubs. In his four years with the Rays Pena consistently supplied power, even if he didn't hit for a high average. The walk rate, combined with his 20-30 home run power will bring a big improvement to the Rays' overall first base numbers.
The Rays weren't quite as bad with the DH spot in 2011, though they did rank 10th out of 14. Even still, there was a pretty sizable gap between 10th and 9th, and the Rays DHs did combine for a .320 OBP. To remedy this they signed Luke Scott, who has certainly hit for power in the past. From 2008 through 2010 he hit .266/.348/.497 with the Orioles, a 123 OPS+. He did struggle through an injury plagued 2011 season, but if he rebounds to his former self he'll provide another boost to the Rays offense.
Another improvement the Rays will realize comes from Desmond Jennings. In left field the Rays were above average last year, due in no small part to Jennings's .259/.356/.449 line. Yet he appeared in only 63 games, after starting the season in the minors. A full season of him, even a little below the level he established in 2011, will be a big boost to the overall offense. Add in his ability to swipe a bag — he was 20 for 26 in those 63 games, after going 17 for 18 in AAA — and he becomes a legitimate offensive threat.
Last season Evan Longoria's production dropped off a bit at an age where we expect improvement. He did suffer a foot injury, which cost him a number of games. Perhaps that's part of the reason for his drop-off. One big reason, however, might be the ebbs and flows of a career. Fancy this: Longoria produced a career-low .239 BABIP in 2011. This isn't to say that he was merely unlucky. It is to say that it's considerably out of line with his .301 career BABIP, and the .336 and .313 marks he produced in 2010 and 2009. At the same time, his walk rate jumped, as did his power production. If he brings his average back up into the .280 neighborhood with those power and patience improvements, he could be an MVP contender.
In addition to Longoria and Pena in the middle of the lineup, the Rays also have Ben Zobrist. His numbers might not stand out, .269/.353/.469 in 2011, but that was good for a 132 OPS+. Combine that with his defensive versatility and you have a highly valuable player who can hit essentially anywhere in the lineup. B.J. Upton and Matt Joyce are also quality hitters to round out the outfield. The only real hole in the Rays' offense, then, comes at shortstop, where Reid Brignac and Sean Rodriguez both provide little. Rodriguez is the better bet to provide near league average numbers, as he did in 2011, so it won't be as though they have a gaping hole there.
Defense
One area where the Rays receive universal praise is their defense. Longoria, Zobrist, Pena, Upton, and Jennings are all well above average defensively, and the rest of the team, from the starters to the bench, fields well too. The Rays boasted the best defensive efficiency — number of balls in play turned into outs — of nay team in the majors last year, and by no small margin. In terms of Baseball Prospectus's PADE, which adjusts defensive efficiency for park effects, the Rays demolished every team in 2011 (4.30, with the next closest being 1.98). That will make things quite easier on their already quality pitching staff.
* * *
Once again, the Rays will complicate the AL East. They might not have the on-paper powerhouse lineups that both the Yankees and the Sox boast, but they do have a number of high-quality hitters throughout the lineup. One through seven, in fact, will comprise above-average hitters, with only the shortstop and Jose Molina dragging them down. They also have five high-quality starters that can rival any rotation in the division. It might take a few things breaking their way, but the Rays do have a legitimate shot at the AL East crown this year.