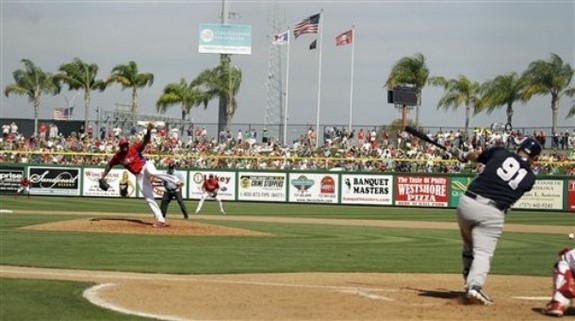 The Yankees beat the Phillies 8-5 in the their first official Grapefruit League game this afternoon. Cole Garner (2-for-2 with a bomb to left and a big league bat flip) is the early favorite for the Jon Weber Memorial He Should Make The Team! Award, and Curtis Granderson (2-for-2 with a double to right-center and a homer to left) did some nice things as well. It was really windy in Clearwater, everything hit in the air was an adventure.
Ivan Nova sure looked like a pitcher in his first Spring Training outing, leaving a lot of breaking balls up in the zone. I did see one really nice changeup for a swing-and-miss though. Manny Banuelos and Dellin Betances were all over the place, but I thought David Phelps looked surprisingly good for early-March. He was probably the most impressive pitcher of the day, for either team. Eduardo Nunez (booted a grounder), Jayson Nix (airmailed a throw), and Nova (threw away a pickoff throw) all made errors early on. Here's the box score, and here's the non-game news from Tampa…
Phil Hughes and some minor leaguers/non-roster invitees threw live batting practice today while Michael Pineda and CC Sabathia threw in the bullpen. Pineda will start Monday's game while Hughes and Sabathia are scheduled to pitch on Tuesday. All the position players didn't make the trip to Clearwater hit at the home base. [Chad Jennings]
Hiroki Kuroda will throw a simulated game tomorrow with his first Spring Training start scheduled for Wednesday. Adam Warren, Graham Stoneburner, and Brett Marshall will all throw bullpens tomorrow after pitching against the University of South Florida yesterday. [also Jennings]
Pretty neat story from Tim Brown about Alex Rodriguez, who gave the team a bit of a motivational speech prior to yesterday's game against USF.
Here's tonight's open thread. None of the hockey or basketball locals are playing tonight, but MLB Network is showing a replay of this afternoon's Yankees-Phillies game. You folks know what to do by now, so have it.