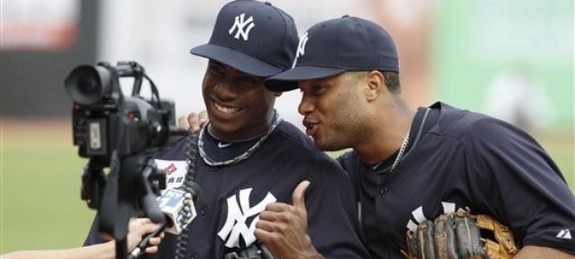 Daniel asks: With an eye on the 2014 budget, do you think the Yankees would consider trading a core player (Robinson Cano, Curtis Granderson) for a haul of inexpensive, but talented players?
I'm sure they would consider it — it's Brian Cashman's job to consider anything that could potentially improve the team — but it would really, really surprise me if they did something big like that. The Yankees usually aren't sellers; only when they have an older, expensive player they don't want or need anymore (A.J. Burnett, Gary Sheffield). I think they would sooner try to win with both guys the next two years and let one of them walk as a free agent for payroll reasons after 2013 than trade one of them after 2012 just to make sure they get some kind of return that fits into the future budget. The Yankees are still all about winning.
One thing to keep in mind about Cano and Granderson is that they are both scheduled to become free agents after 2013 (assuming their options are picked up next winter, which they will be) and won't bring a huge return in a trade. The Mark Teixeira trade (from the Rangers to Braves) is the gold standard in situations like this, but that's a once in a lifetime thing. Franchise-altering hauls like that are very rare, and if someone wanted to offer the Yankees a similar package for Granderson (I'm sure they're going to re-sign Cano), then by all means explore the possibility. I just can't see them hooking up with another contender (since that would be the kind of team looking to add that kind of player) for a trade of that magnitude.
Looking beyond Teixeira, other star-caliber position players traded one season prior to free agency in recent years includes Adrian Gonzalez, Dan Uggla, Jason Bay, and Matt Holliday. All four deals returned useful players (to varying degrees), but Carlos Gonzalez (from Athletics to Rockies for Holliday) is the only guy that qualifies as an above average big leaguer. There's a lot of risk in making a trade like that, especially for a perennial contender like the Yankees. Keeping Granderson (and Cano) around and trying to win with him in 2013 makes more sense than hoping to luck into a Teixeira-type haul. Anyway, let's poll…
What would you rather see the Yankees do?