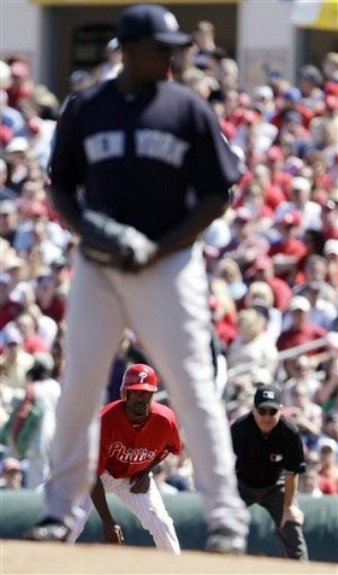 There are few things in baseball more talked about and less important than the order of the Opening Day rotation. Everyone wants to know who the number two starter behind CC Sabathia will be, but ultimately it doesn't matter in April. It matters in October. Seniority and salaries and stuff like that has more to do with determining the Opening Day rotation order than expected production, which is why A.J. Burnett got the ball in the second game of 2011.
We all know Sabathia is going to start Opening Day for the fourth time as a Yankee and the ninth time overall in 2012, but that all-important number two starter spot is still a mystery. It could be Ivan Nova, who was the number two come playoff time last season. It could also be new import Michael Pineda, who the Yankees have touted as a future ace assuming he figures out a usable changeup. Hiroki Kuroda has a strong case as well as a veteran arm coming off four very good seasons with the Dodgers. He was their Opening Day starter in 2009, and his $10M price tag doesn't hurt his chances. Heck, you can even make an argument for Freddy Garcia. He pitched well last year, gives some Grade-A veteran presents, and has a trio of Opening Day starts to his credit (Mariners, 2001-2003).
Based on the current Spring Training rotation order, it looks as though Kuroda will get the ball after Sabathia to open the season while Nova following as the number three. CC pitches today against the Pirates, Kuroda tomorrow against the Rays, and then Nova on Thursday against the Blue Jays. According to Chad Jennings, Joe Girardi said the order will remain the same the next time through the rotation as well, taking us into mid-March. At that point the starters will have increased their workload to four innings or so, making it a bit more difficult to rearrange things just for the heck of it. Pineda and either Garcia or Phil Hughes will follow as the four and five in some order.
The Yankees start the season with three games in Tampa and three games in Baltimore before their first scheduled day off, so they will need all five starters right out of the chute. If they really want to get cute, they can use a six-man rotation the first time through the rotation, allowing Sabathia to start the home opener after that first off-day. I don't like it and really hope they don't do it, but the Yankees did employ a six-man rotation for way too long last season. It wouldn't be a complete surprise if they did it again. Maybe I'm just paranoid.
Anyway, it appears as though Kuroda and Nova will follow Sabathia in the rotation to open the season. I had a feeling things would line up this way after the Pineda and Kuroda pickups; the Yankees have talked about easing the former into things, and frankly I think the latter is going to be the club's best pitcher not named Sabathia in 2012. Like I said though, the order of the rotation on Opening Day means very little. Weather and off days and injuries will change things drastically during the course of the 162-game schedule, but come late-September and early-October, that's when this stuff will really start to matter.