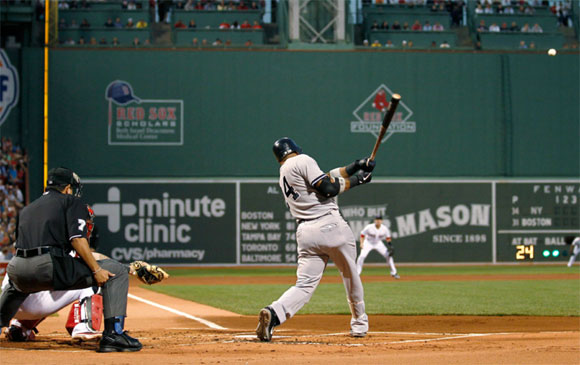 For the second straight season the Red Sox have gotten off to about as frustrating a start as both the team and fanbase could imagine, stumbling out to a 4-8 record due largely to some utterly abysmal pitching. Boston's pitching staff — a significant question mark heading into the year — has been horrendous, and is currently dead last in MLB with a 6.20 ERA (an astoundingly bad 6.63 for the bullpen, and an equally poor 5.97 for the starters) and third-to-last with a 4.78 FIP. Somehow the Rays — remember them, the team that swept the Yankees during the first weekend of the season? — actually have a worse bullpen ERA than Boston, at 8.63. I suppose if it's any consolation to the Fenway faithful, Boston was only 2-10 after its first dozen games in 2011, so it could be worse.
That the Sox have even won four games is a testament to what's been an exceptionally hot-and-cold offense thus far — one game they're pasting the opposition with 13 runs, the next getting shutout. The Sox currently rank fifth in the American League in wOBA (.328) and seventh in wRC+ (102), while the Yanks are second in both wOBA (.357) and wRC+ (123). The Sox offense is certainly better than they've shown thus far, and, like last April, a visit from their rivals to the south could very well be what helps restore order to the Red Sox.
Of course, the Yankees, at 7-6, have had some of their own issues in the early going as well. Their starting pitching has been nearly as bad as Boston's, with a 5.59 ERA over 74 innings (for a frame of reference, the 2011 team had a 5.37 ERA over 67 innings through its first 13 games, and were 8-5); however, unlike the Sox, the Yankees feature a bullpen that has been virtually impossible to score on, boasting the lowest ERA in MLB (1.83) by a not-insignificant margin. Additionally, while the Yankee offense has certainly done its job, several key members of the Yankee lineup still have yet to really get going as well — I'm looking at you, Robbie, Alex and Russell — and a visit to one of the friendliest offensive parks in baseball could be just what the doctor ordered.
Today's 3pm start marks the 100th anniversary of Fenway Park, and as a result, both the Sox and Yanks will be wearing throwback jerseys. Per Marc Carig, this is the first time the Yankees have ever worn a throwback jersey (per that same article, the only time the Yankees have played an official game in uniforms other than their own was on a day to celebrate the Negro Leagues in 1996, when the team wore the uniforms of the New York Black Yankees while the Detroit Tigers donned the uniforms of the old Detroit Stars), and it's quite cool of the franchise to acquiesce and ensure that Boston's big day is properly recognized considering the history between the two teams.
The Pitching Match-Ups
Friday at 3pm: RHP Ivan Nova vs. RHP Clay Buchholz
Today's game features Ivan Nova (4.15 ERA/4.06 FIP, 10.4 K/9, 1.4 BB/9, 41% GB%), making just his second career start at Fenway, against Clay Buchholz (9.82 ERA/4.45 FIP, 5.7 K/9, 4.1 BB/9, 44.7% GB%).
Nova struggled (4.1 innings, 4 ER) in his first start at Boston a year ago — also in a matchup against Buchholz — but the offense bailed him out, in what would be the Yankees' only win against the Red Sox in the first half of 2011. Nova's been pretty sharp in his two starts thus far — with a presumably unsustainable K/9 and sub-2 walk rate — although his improved K rate appears to have come at the expense of his HR/9, which currently sits at an also-unsustainable 2.1. Though it's only been two starts, Nova's slider appears to not only be here to stay, but also the best weapon in his arsenal.
Buchholz has gotten pretty roughed up in his two starts on the young season, as he makes his way back from missing more than half the season last year. If Buchholz ever finally figures out how to consistently harness his stuff — and it looked like he was on his way to doing so after a masterful outing against the Yanks last May — he's going to be extremely tough, as he features five pitches each thrown more than 10% of the time: a 94mph four-seamer, 94mph sinker, 81mph changeup, 91mph cutter and a 78mph curveball. However, his average fastball velocity is slightly down thus far (although this appears to a baseball-wide April trend), hasn't really been striking anyone out and he's also walking too many guys, so hopefully the Yankees can capitalize on what appears to be a still-rusty Buchholz.
Saturday at 4pm: RHP Freddy Garcia vs. LHP Felix Doubront
The 4pm FOX Saturday Afternoon Game of Death™ features the ugliest matchup of the weekend, Freddy "Sweaty" Garcia (6.97 ERA/5.03 FIP, 7.0 K/9, 2.6 BB/9, 42.4% GB%), against southpaw Felix Doubront (5.40 ERA/2.80 FIP, 11.7 K/9, 3.6 BB/9, 27.6% GB%).
Freddy had mixed success against Boston last year, although his one start at Fenway last August was about as good as one could have hoped for, as the Chief gutted out five innings of one-run ball in a game the Yanks really should have won.
Doubront has never started against the Yankees, and only has 4.2 career innings of relief work against the Bombers, holding them to a .188/.235/.275 line across a mere 17 PAs. Doubront's a hard-throwing lefty with a 93mph heater that he complements with a 92mph sinker and 77mph curveball. He also features a changeup and a cutter. Though it's quite early, Doubront's been arguably Boston's second-best starter behind Daniel Bard, and it's also tough to predict how he'll fare turning over a Yankee lineup multiple times. This one could get ugly, my friends.
Sunday at 8pm: LHP CC Sabathia vs. RHP Daniel Bard
And in the ESPN Sunday Night Marathon Heartbreaker™, guaranteed to end well past midnight or your money back, CC Sabathia (5.59 ERA/3.58 FIP, 10.2 K/9, 2.8 BB/9, 36.4% GB%) faces the aforementioned set-up-man-turned-starter Bard (4.63 ERA/2.99 FIP, 10.0 K/9, 6.2 BB/9, 59.4% GB%).
CC finally looked like himself during his last go-round against the Twins, and despite the unsightly ERA, he's striking out the world and limiting the walks. Once he gets his GB% back to the mid-40%s where it belongs, he'll be his usual unstoppable self. After starting his Yankee career quite auspiciously against the Red Sox, with 28.1 innings of 2.22 ERA/2.21 FIP ball in 2009, Sabathia's been a bit of a mixed-bag against the Olde Towne Team, falling to 3.96/5.00 over 25 innings in 2010, and getting torched by Boston through his first four starts against them last year, with a 7.20 ERA over 25 innings and losing all four games. Sabathia finally silenced Boston at Fenway last August 30 with a six-inning, two-run bulldog performance.
Bard's been Boston's best starter in the early going, racking up the Ks while yet to surrender a home run, although he's also walking the ballpark (6.2 BB/9). The Yankees know Bard well, but they obviously don't know him as a starter. As a reliever Bard's fastball was routinely in the 97-98mph range, but it has understandably been dialed back to around 94mph as a starter. That still makes him one of the hardest-throwing starters in the game, and his slider is a real knockout pitch, coming in 13mph slower than his four-seamer. Bard also throws a sinker and an occasional change.
There had been some rumblings that the Sox might opt to start Jon Lester on Sunday night, as he would be on regular rest, but Bobby Valentine confirmed yesterday that Bard is still slated to start. Frankly, I'm a bit shocked that the Sox haven't shuffled their rotation so that Josh Beckett and Lester aren't somehow combining to start all three games, given how the Red Sox routinely bend themselves backwards to make sure their big two start as many contests as possible against the Yankees.
The Prediction
If you read my Red Sox season preview, then you know that the Yankees are 8-22 at Fenway Park during the month of April since 2001, and have only won their annual April set at Fenway against the Red Sox once (back in April 2010) in that 11-year span. Not only that, but prior to their April 2010 series win, the last time the Yankees had won an April set against Boston at Fenway was in 1975. For whatever reason, the Yankees just seem to play terrible ball at Fenway in the early going of any given season.
That said, if the Yanks were ever going to accomplish a rare April Fenway series win, this weekend would arguably be the time, with the Sox pitching staff reeling, neither Beckett nor Lester scheduled to make an appearance, and a bullpen missing its pre-season closer in Andrew Bailey and an 8th-inning guy that apparently can't get anyone out and as a result was subsequently demoted to Pawtucket. Of course, even with the Sox not performing at their optimal level I still have a hard time envisioning the Yanks taking two of three at the-bandbox-where-no-lead-is-safe, and fully expect Dustin Pedroia — who hit .406/.463/.565 across 81 PAs against the Bombers last year, and has a career .392 OBP vs. the Yanks — to get on base during every plate appearance and help grit and grime Boston to multiple victories. Also, you can book David Ortiz for 18,000 bombs this weekend as well.
In my history of series predictions I seldom call for a Yanks series loss, but given the numbers the smart money here says Boston two out of three. On the flip side, the Twins just won two games in a series at Yankee Stadium for the first time since 2001, so who knows, maybe I'll be pleasantly surprised.