Just four questions this week, nothing crazy. Please use the Submit A Tip box in the sidebar whenever you want to send us something, mailbag questions or otherwise.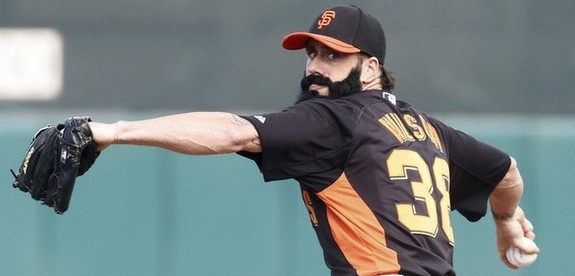 Many of you asked: Can the Yankees trade Rafael Soriano to the Giants? What could they get in return?
As soon as the news broke that Brian Wilson will miss the season with his second Tommy John surgery, our inbox was flooded with "trade Soriano to the Giants!" comments and questions. Seriously, you guys didn't hesitate. San Francisco is going use a closer platoon for the time being, with Jairo Garcia Santiago Casilla getting the majority of the save chances.
Can the Yankees trade Soriano to the Giants? Sure, his contract does not include a no-trade clause. His salary — $11M this year and $14M next year, plus the opt-out — effectively serves as a no-trade clause for him, however. Given his erratic performance over the last season and his injury history, Soriano has negative trade value. They're not getting Brandon Belt for him, they're not getting a Grade-B prospect, they're not getting anything of value. It would be another A.J. Burnett trade, with the Yankees eating money and receiving what amounts to nothing in return. The Giants do a wonderful job of evaluating pitchers — Barry Zito notwithstanding — and are unlikely to overvalue a Proven Closer™. The Yankees made their bed with Soriano, and now they have to sleep in it.
Steve asks: What is the status of Austin Romine and the Yankees' strategy for the system's catching depth? With the recent injury to Brett Gardner, it's evident how quickly a strength can turn into a problem.
Forget Gardner, it was evident how quickly depth can disappear when Romine got hurt. Apparently it takes two defense-first guys — Chris Stewart and Craig Tatum — to replace him. Anyway, there has not been a Romine update since Spring Training and I can only assume that he isn't close to returning. Backs are tricky, especially since he had a similar issue last summer and suffered a setback in camp.
The Yankees continue to say that if Russell Martin were to get hurt, Frankie Cervelli would take over as the everyday catcher, not Stewart. Frankie's toiling away in Triple-A with Tatum as his backup while Gus Molina and Jose Gil handle catching duties in Double-A. Most of the club's high-end catching depth is in the lower minors, specifically J.R. Murphy and Gary Sanchez. Murphy could probably use a couple hundred at-bats in High-A this season, though Sanchez is probably just a weeks away from a promotion to that level after starting the season back at Low-A. They can split catching and DH duties for a few weeks, it's not the end of the world. Those guys are certainly not big league options this year and are unlikely candidates for next year as well.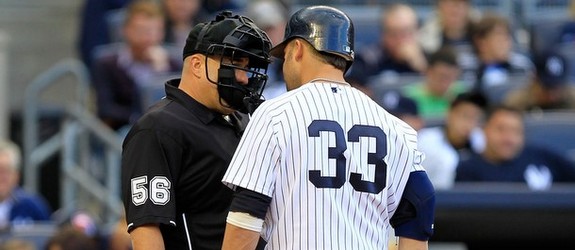 Jon asks: Do you see any scenario where the Yankees keep Nick Swisher instead of Curtis Granderson?
Sure, I could absolutely see something like that playing out. It all depends on the kind of contract Swisher wants, but something a little north of Michael Cuddyer money (three years and $31M) is perfectly fine by me. He's a year younger than Granderson will be when he hits free agency, so you wouldn't be buying as many decline years as you would by re-signing Grandy after next season. Swisher is also likely to cost less given Granderson's offensive showing over the last year and a half. With Brett Gardner capable of stepping into center fielder, it makes a lot of sense to re-sign Swisher this offseason and let Curtis walk after next year.
Daniel asks: With the way that Derek Jeter has performed since coming back from his injury and if he can continue his performance this season and next, what are the chances that Jeter declines his player option after next season and asks the Yankees for another 15+ million per year? Also, how might this influence the 2014 budget plan?
Jeter has been brilliant since coming off the DL last Independence Day, but let's not get too far ahead of ourselves. He still has all of this year and all of next year to go before that player option becomes an issue. The Cap'n would have to maintain this level of production for the next 18 months before this becomes a realistic scenario. At that point he'll be 39 years old and I have a very hard time thinking any team will pay a shortstop that age $15M annually. Maybe the Yankees would do a two-year, $20M deal if he declines the option and keeps hitting like he has, but even that's pushing it. They've already paid Jeter very handsomely for what he's done for the franchise, at some point reality has to come into play.