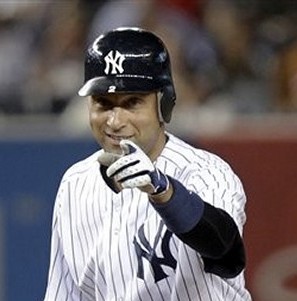 Like I'm sure many of you, I thought Derek Jeter was getting dangerously close to being done last summer. He had not hit much since the start of 2010 and it was obvious watching him everyday that his hitting skills had deteriorated. Jeter was taking ugly swings at breaking balls, indicating that he was starting his bat early to catch up to the fastball. He wasn't working the count like he had in the past; it just wasn't the same guy. At his age, decline is normal. Boy was I wrong though.
Jeter has been, by far, the Yankees' best player this season and one of their three or four best hitters since coming off the DL last Independence Day. He worked with Gary Denbo — currently a scout for the Yankees after spending years coaching in the minor league system and even one year of service as the big league hitting coach — to correct some mechanical flaws while away from the team. Denbo and Jeter go way back, and he was able to get the Cap'n to just stay back on the ball a bit better. Just wait a bit more before swinging. The adjustment brought that sweet inside-out swing back as well as Jeter's historically great offensive production (relative to position).
Everyone loves to use the 3,000th hit game as a starting point for Jeter's turn-around because it makes for a great story, but his resurgence started right when he came off the DL last summer. He had doubles in three straight games leading up the 3,000th hit game after hitting just nine doubles in his first 63 games of the season, and overall he's hit .347/.394/.487 in 393 PA since coming off the DL. That isn't too far off from his .334/.406/.465 effort in 2009, when he finished third in the MVP voting and was the team's best player. The Jeter of old is back, it's not just old Jeter.
Despite his struggles in 2010 and early-2011, Derek never did stop mashing left-handers. He tagged them for a .315/.396/.462 batting line in 318 PA during that time compared to just .246/.309/.311 in 714 PA against righties. The dominance of left-handers hasn't stopped, so most of his improvement has come against same-side pitchers. Since coming off the DL, Jeter has hit .302/.358/.396 in 276 PA against righties. The power output hasn't really been there, but that was never his forte anyway. With some help from Texas Leaguers, let's compare Jeter's spray charts against right-handers leading up to the DL stint and since the DL stint. Here's Derek against righties in the year and half leading up to the calf problem…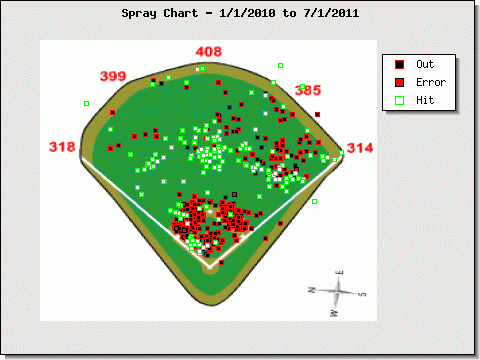 Most of Jeter's damage was done the other way with lots of dinky little ground balls hit to the left side of the infield. Depending on your definition of deep, there's anywhere from 8-12 balls hit deep to left and center fields. That's out of 548 balls in play against righties. Now let's look at Jeter's spray chart against right-handers since coming off the DL last June…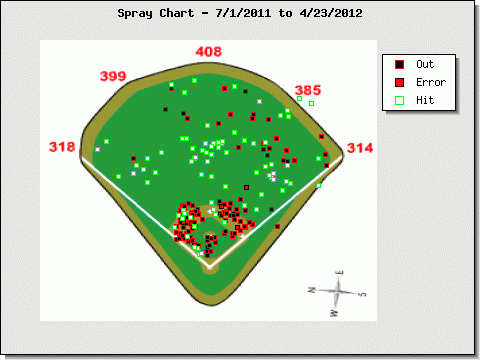 Again, depending on what you consider a ball hit deep to the outfield, there are something like 6-10 balls hit to deep left and center fields out of 254 balls in play. The exact number doesn't matter, just the fact that Jeter has been driving the ball with authority to left side of the field more than he had before getting hurt. That's because he's waiting just a tiny bit longer before swinging thanks to Denbo. Compared to the previous chart where most hits went to shallow center and shallow right, the hits here look a little more uniformly distributed to all fields as well. Jeter always has been and will continue to be an opposite field hitter, but that doesn't mean pulling the ball is a bad thing.
Anyway, Jeter's biggest problem before going on the DL was his extreme ground ball rate. I'm talking 66.5% grounders against righties from the start of 2010 until he hit the shelf. It's impossible to hit for any kind of power when you're beating the ball into the ground like that. Derek still hits the ball on the ground a ton, he always has, but since coming off the DL he's done a better job of getting the ball in the air and hitting it on a line…
Jeter's ground ball rate was literally off the charts for a while. It was pretty bad. He calls last year's DL trip a "blessing in disguise" and it absolutely was. Maybe it's hyperbole, but the work he did with Denbo in Tampa while coming back from the calf problem probably saved his career, at least in terms of being a well above average offensive player. The Yankees have an MLB-best 132 wRC+ this year thanks in large part to their captain and leadoff hitter. Jeter has been setting the stage since last July and at age-37, he looks to be nowhere close to done.