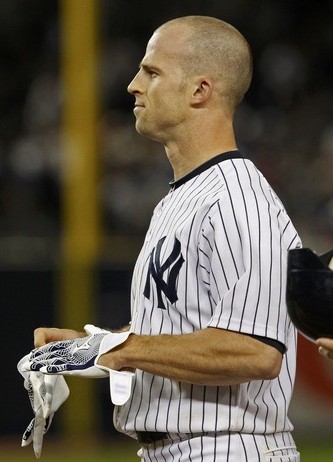 The Yankees lost to the Twins for the second time in three days last night, and after the game we learned that Brett Gardner has been placed on the 15-day DL with a bone bruise and a strain in his right elbow. He apparently suffered the injury when he landed awkwardly while making a sliding catch on Tuesday. Gardner may only be the number nine hitter and play the least important defensive position, but he's an big part of the Yankees and not just because he's hitting a stout .321/.424/.393 in the early going.
In the super-short-term, the injury means the Yankees will use a 13-man pitching staff — right-hander Cody Eppley was recalled from Triple-A to take Gardner's spot — and rely on the trio of Andruw Jones, Raul Ibanez, and Eduardo Nunez to fill-in in left field. The Yankees' bullpen has already thrown 40.2 IP this season — fourth most in the AL — because the starting pitching has been pretty unspectacular and also because they did play some extra innings last week. Eppley figures to help lighten the load this weekend in Boston and early next week in Texas, even if he is only a righty specialist.
There are a number of ways the Yankees could work this offensively with the short bench. If Ibanez or (preferably) Jones plays left, the other can DH. The seldom-used Eric Chavez could also DH, or he could play first/third while Alex Rodriguez/Mark Teixeira gets a day at DH with Ibanez or Jones or Nunez in left. That part of replacing Gardner won't be a big problem. The bigger issue is that the Yankees now lack a backup center fielder, with the job falling on Nick Swisher's shoulders by default. Jones may have been the greatest defensive outfielder in history once upon a time, but he's an emergency-only option in center right now.
"We're going to have to sit him down for a while and we'll try to get him back after 15 days," said Girardi after last night's game, making it sound like Gardner could be out longer than the requisite two weeks and one day.
The 13-man pitching staff can't go on forever, and if Gardner is going to need more than two weeks, the Yankees are going to have to call up an extra outfielder. Chris Dickerson is currently on the Triple-A disabled list, leaving Dewayne Wise and Colin Curtis as the two obvious call-up candidates. Both guys would have to be added to the 40-man roster but that's not an issue; both Joba Chamberlain and Cesar Cabral could be placed on the 60-day DL. Wise would have to clear waivers to go back to the minors though, Curtis would not. Both would likely be non-factors offensively, but at least Wise is a stellar gloveman and a true center fielder. He's probably the best fit if Gardner missed extended time.
The easiest thing to do would be to keep Eppley on the roster for the next week or so, giving the Yankees some extra bullpen depth while they play nine straight against the Red Sox, Rangers, and Tigers. Once they're through that stretch, they can re-evaluate Gardner and determine if they need to make a change to add an outfielder. If not, they might just stick with the expanded pitching staff for the entirety of his DL stint. It's not ideal, but the Yankees have the right bench pieces to pull it off.