The seventh matchup of Japanese-born starting pitchers in MLB history certainly made the fans overseas happy, but not the Yankees. The Rangers took Tuesday night's game 2-0.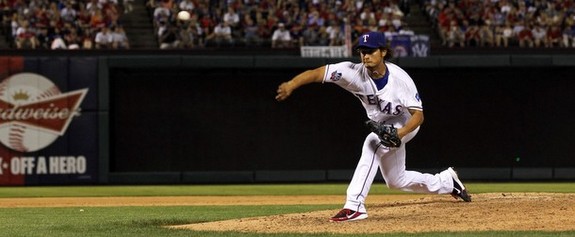 As Advertised
So apparently all it took for Yu Darvish to break out in the States was a matchup against the best offense in baseball in his bandbox home ballpark. Go figure. The latest and greatest Japanese import befuddled the Yankees for 8.1 innings, striking out ten batters while walking just two after posting an ugly 14/13 K/BB ratio in his first three starts. Darvish retired 16 of 19 before Nick Swisher ended his night with an opposite field single in the ninth, one of seven hits they mustered off the right-hander.
Most Japanese-born pitchers cover over with the promise of six-pitch repertoires and command so fine that it makes wolverines purr, but Darvish actually lived up the billing. He threw his 91-97 mph fastball to both sides of the plate and up and down in the zone, mixing in a wide array of offspeed pitches that included a sharp power slider, some kind of splitter/changeup, and big slow get-me-over curveball. Twenty-two of the 25 outs he recorded came on the infield. After about the fourth inning, the Yankees no had chance. Nothing you can do other than tip your cap, Darvish was on point.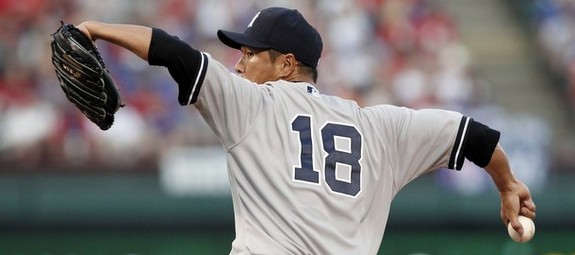 Escape From Los Angeles
You'll have to forgive Hiroki Kuroda if he had flashbacks to the last four years of his career and thought he was pitching for the Dodgers again. He pitched well against the best non-Yankees lineup in baseball but didn't get a lick of run support and walked off the mound in the seventh inning in line for the loss. Two runs on five hits and two walks across 6.2 innings? I'll take that every five days thank you very much, and so will the Yankees.
Kuroda's biggest mistake of the night wasn't the leadoff homer he allowed to Ian Kinsler, but the walk to Elvis Andrus in the third inning. There were two outs in the inning and he was ahead in the count 0-2, but he followed with four straight balls. Andrus then stole second and scored on Josh Hamilton's single. Andrus came into the game with a .074 ISO (!) in his career, you gotta put that guy away with two strikes. Can't be walkin' guys like that.
Like Darvish, Kuroda broke out everything plus the kitchen sink while on the mound, throwing sinkers and four-seamers, curveballs and slider, splitters and probably another pitch or two still in need of a name. Hiroki actually generated more swings and miss (17) than his counterpart counterpart (16), and 18 of his 20 outs came on the infield. It sucks he had to get a loss, but Kuroda pitched exceptionally well and it shouldn't be forgotten.
Their Best Shot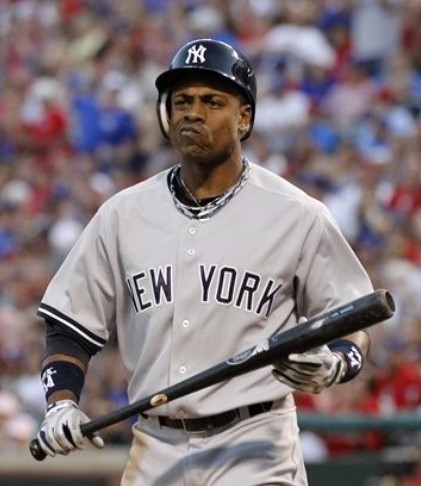 As great as Darvish was, the Yankees definitely had a chance to bust things open early. Eric Chavez (single to right), Russell Martin (walk), and Derek Jeter (push bunt single) all reached base to open the third inning, but Curtis Granderson got caught looking at an outside curveball that may or may not have been in the zone for strike three before Alex Rodriguez grounded into an inning-ending double play. That was, by far, their best chance to not only score runs, but knock Darvish off his game early. Alas.
Leftovers
Jeter's bunt single extended his hit streak to 14 games, though he also doubled down the left field line later in the game. His batting line now sits at .416/.439/.649 on the young season. Robinson Cano also had two hits — a single and a double into the left-center field gap — for his second two-hit game of the series. Martin was the only other Yankees to reach base twice thanks to his single and walk.
We say this pretty much every day, but big ups to the bullpen for  more scoreless relief. This time it was Clay Rapada (one out), Cory Wade (two outs), and Boone Logan (one out) who did the job without allowing a baserunner. Kuroda and the bullpen retired 13 of the final 15 Rangers to come to the plate.
Box Score, WPA Graph & Standings
MLB.com has the box score and video highlights, FanGraphs some more stats, and ESPN the updated standings.

Source: FanGraphs
Up Next
Phil Hughes gets the ball in the rubber game of this three-game set on Wednesday night and will be opposed by Scott Feldman. That one has reverse lock written all over it; you're expecting a 13-11 score but will get 2-1 instead. You watch.