The toughest early-season stretch the schedule is officially in the rear-view mirror, as the Yankees took the rubber game of their series with the Tigers by the score of 6-2.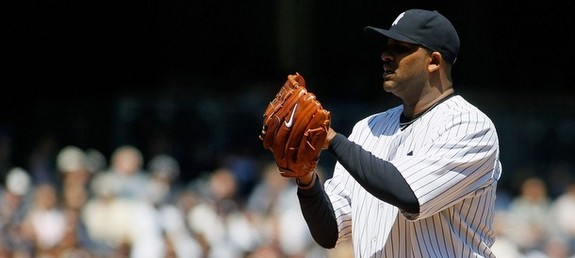 The Ace
The starting rotation has been a mess all season, but once every five days we know CC Sabathia is going to give the Yankees a ton of high-quality innings. On Sunday against the Tigers, he made just two mistakes — hanging sliders to Prince Fielder (solo homer) and Miguel Cabrera (run-scoring double) — in eight excellent innings, striking out eight and walking just two. The only other hits allowed were a first inning double and a sixth inning single, both by Brennan Boesch.
Sabathia dominated Detroit with essentially two pitches, shelving his changeup for most of the afternoon. Ninety-six of his 106 pitches were fastballs or sliders, the other eight were changeups and curveballs. He threw a first pitch strike to 18 of 30 batters and only went to six three-ball counts. Sabathia never threw more than 18 pitches in an inning and only thrice needed more than a dozen pitches in a single frame. The big left-hander was highly effective and highly efficient, continuing the trend he showed in the final innings against the Twins and last week against the Rangers. It was exactly the kind of outing the team needed.
All Of The Base Runners
It was pretty disheartening that the Yankees put 14 runners on base against Max Scherzer in his 4.2 innings — exactly half of the batters he faced — but only scored three runs. One of those runs came on a bases loaded walk by Curtis Granderson and another on an infield single by Alex Rodriguez, so they weren't exactly tattooing him either. Through six innings they'd left 14 of 18 possible runners on base, including the bases loaded in the second, fifth, and sixth innings. Scherzer walked seven (!) and allowed seven hits, though six were singles and three didn't even leave the infield. The game was uncomfortably close.
Almost Amazing
The third run Scherzer allowed came on a Curtis Granderson solo homer into the Yankees' bullpen, though it was nearly a great catch by Austin Jackson. He scaled the right-center field wall and had the ball snow-coned in his glove, but he just couldn't hang on. Had he made the catch, it would have been a legit play of the year candidate. Here's video. Pretty amazing … almost.
Break It Open
The Yankees did manage to break things open in the later innings, after Scherzer had been replaced by the rookie right-hander Luke Putkonen. A former rotation-mate of Adam Warren at North Carolina, Putkonen was making his big league debut in long relief and he managed to pitch out of two bases loaded situations in his first two innings. The bend but don't break act last until the seventh inning, when Chris Stewart singled and Derek Jeter walked to open the frame before moving up on Granderson's fly ball to the warning track.
The first insurance run came on an A-Rod ground out to third, though Stewart deserves credit for sliding under the tag at the plate after going on contact. The throw had him beat, but replays showed that his foot touched the base before Gerald Laird applied the tag. It was a pretty sweet slide. Robinson Cano plated Jeter with a sacrifice fly one batter later, then Andruw Jones snapped an 0-for-19 skid with a long homer to left in the eighth. It almost made the second deck.

Leftovers
Granderson should never bunt, especially not in the first inning. I don't care if it was called from the bench or he did it on his own, that first inning sacrifice today was not a smart play. Scherzer walked the first batter he faced and is pretty homer prone, which plays right into Grandy's strengths. Even bunting for a hit is a sketchy play in that spot.
David Robertson threw a scoreless ninth inning once Sabathia had done his thing, and 13 of his 14 pitches were strikes. That's very un-David Robertson-like, but I approve. CC and Robertson combined to strike out ten and walk just two while their lineup drew nine walks against just five whiffs.
Everyone in the lineup reached base at least once except for Mark Teixeira. That includes Nick Swisher, who drew a walk before being taken out of the game with a low-grade hamstring strain. Jeter (two singles and two walks), Andruw (single, homer, walk), and Eric Chavez (two singles and walk) all reached base at least three times.
Box Score, WPA Graph & Standings
MLB.com has the box score and video highlights, FanGraphs some more stats, and ESPN the updated standings.

Source: FanGraphs
Up Next
The Yankees welcome the Orioles to the Bronx for a three-game set starting Monday night. Hiroki Kuroda gets the start against Jason Hammel. Check out RAB Tickets for some ticket deals.