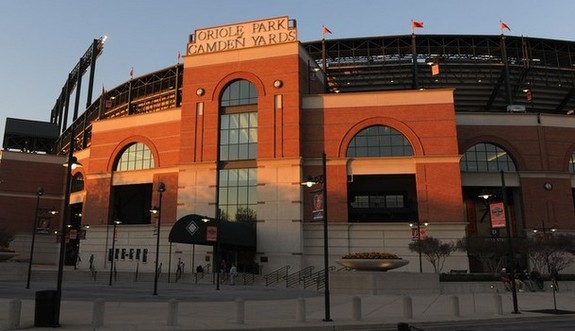 It's mid-May and yet the Yankees and Orioles are about to play for the third time. New York swept a three-game set in Baltimore for their first three wins of the season back in early-April before the O's took two of three at Yankee Stadium two weeks ago. After this quick little two-game series in Camden Yards, these two clubs won't play again until after the All-Star break.
What Have They Done Lately?
Two weeks ago the Orioles held the Yankees to a total of three runs in a three-game series. They've won six of ten since including two of three from the Rays this weekend. Baltimore lost yesterday but still sits atop the AL East with a 22-13 record. Their +15 is third best in the division and fourth best in the league.
Offense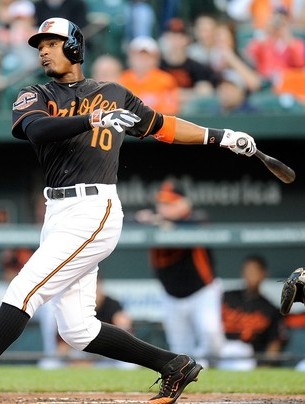 The Orioles are a top-eight offense based on runs per game (4.66) and they actually lead all of baseball with 56 homers. Only 20 of those 56 homers have come with men on base though, thanks to a below average team OBP (.311). At 104 wRC+, the O's have the eighth best offense in the game and fifth best in the AL so far this year.
Buck Showalter's lineup is anchored by Adam Jones (146 wRC+) and Matt Wieters (147 wRC+), who drive in a ton of runs as the four-five hitters behind J.J. Hardy (103 wRC+) and Nick Markakis (119 wRC+). With Nolan Reimold (164 wRC+) on the DL, leadoff duties have rotated between Robert Andino (97 wRC+), Endy Chavez (-30 wRC+ (!)), and Rule 5 Draft pick/utility man Ryan Flaherty (14 wRC+). First baseman/emergency pitcher Chris Davis (114 wRC+) has done damage further down in the order but has cooled off a bit of late.
Former Yankees Nick Johnson (82 wRC+) and Wilson Betemit (101 wRC+) platoon at the DH spot, and with Mark Reynolds (85 wRC+) on the DL, rookie Steve Tolleson (two hits in seven plate appearances so far) has been manning third base. Bill Hall (a homer in four plate appearances) was recalled this past weekend and we could see him at the hot corner at some point as well. Another rookie, outfielder Xavier Avery (hitless in four plate appearances), was just called up for depth.
Pitching Matchups
Monday: RHP Ivan Nova vs. RHP Jason Hammel
Hammel, a former Devil Ray, held the Yankees to two runs in six innings two weeks ago but missed his last start with a sore knee. The swelling subsided and the fluid drained, so he's good to go tonight. The 29-year-old right-hander has completely re-invented himself this year and the results are staggering. Hammel is missing bats (8.84 K/9 and 25.5 K%), limiting walks (2.56 BB/9 and 7.4 BB%), and generating ground balls (61.0%). It's a remarkable turn around that can be attributed to a slight uptick in velocity plus increased usage of both his low-to-mid-90s two-seamer and mid-80s slider. Hammel also mixes in a low-to-mid-90s four-seamer, an upper-80s changeup, and an upper-70s curveball. The two fastballs and slider are his go-to weapons, the other two offerings just tag along for the ride. This isn't necessarily a case of a pitcher having lots of success in a small sample, there are tangible reasons behind Hammel's sudden and drastic improvement.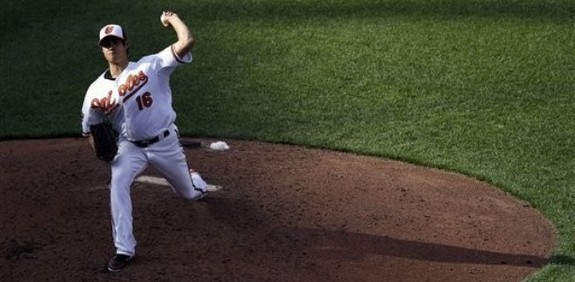 Tuesday: LHP CC Sabathia vs. LHP Wei-Yin Chen
The Taiwanese-born Chen is off to a strong start in MLB, pitching to a 2.68 ERA (3.19 FIP) in 37 IP across six starts. His strikeout (6.81 K/9 and 17.5 K%) and ground ball (32.2%) rates aren't great, but he does limit walks (2.92 BB/9 and 7.5 BB%) and hits in general (.282 BABIP). Chen sits right around 90 mph with both his two and four-seam fastballs, and his top offspeed pitch is a low-to-mid-80s splitter/changeup hybrid. He'll also throw low-90s slider and on the rarest of occasions, a low-70s curveball. The Yankees hung four runs on Chen in his 5.2 IP season debut a few weeks ago, but he's allowed more than two earned runs in just one of five starts since.
Bullpen Status
The Rays did the Yankees a favor by roughing up Baltimore's bullpen this weekend. Jake Arrieta didn't make it through four innings yesterday, forcing left-hander Troy Patton (4.39 FIP) to throw three innings and 52 pitches. He's the only southpaw in their bullpen and chances are he won't be available at all in this two-game set. Kevin Gregg (4.75 FIP) is their Freddy Garcia, meaning he's so bad he only pitches when things look bleak. He threw 19 pitches yesterday after sitting in the bullpen for a week. Righty specialist Darren O'Day (3.36 FIP) threw eight pitches on Sunday and six on Friday, so he's good to go.
Closer Jim Johnson (3.40 FIP) and setup man Pedro Strop (2.90 FIP) had each appeared in three straight games before getting yesterday off. Chances are both will be available tonight and tomorrow, but their recent workload has been intense. Former Yankee Luis Ayala (2.55 FIP) and the recently promoted Stu Pomeranz (no runs in four innings) are both fresh and ready to go. Joe Girardi's bullpen is pretty well-rested and I suspect everyone is available tonight. Check out our Bullpen Workload page for the exact recent usage. Camden Crazies is my Orioles blog of choice, so check it out.