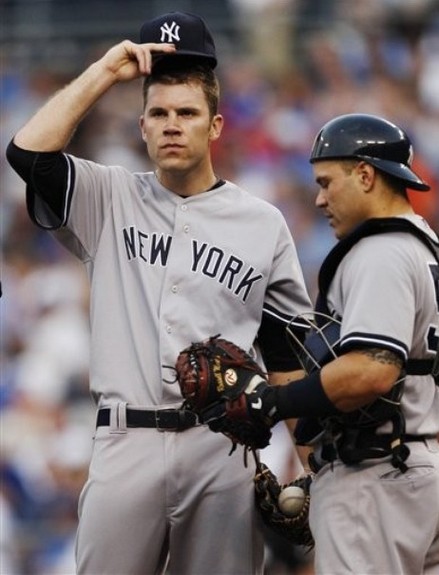 With Andy Pettitte officially back in the rotation, the Yankees finally have a full pitching staff. We're no longer waiting around for someone to come back from injury — Joba Chamberlain and David Aardsma are still a long ways off — or for Pettitte to arrive, the staff is as complete as can be right now. What you see is what you're going to get, the five starters are in place and the seven-man bullpen is unfortunately settled in the wake of Mariano Rivera's injury.
Of those seven relievers, six have clearly defined roles. David Robertson and Rafael Soriano are the late-inning duo, Boone Logan and Clay Rapada are the lefty matchup guys, Cory Wade the do-everything middle reliever, and Freddy Garcia the break glass in case of emergency guy. That leaves David Phelps in a peculiar spot, stretched out as a starter but not needed as a true mop-up type with Freddy still around. That's not a problem, it's an opportunity. An opportunity for the Yankees to use the young right-hander in some more important spots rather than save him for extra innings or short starts.
Phelps, 25, has pitched to a solid 3.08 ERA but an unsightly 5.12 FIP in his first 26.1 big league innings because the Red Sox and Rangers tagged him for some homers a few weeks ago. The strikeout (7.52 K/9 and 20.0 K%) and ground ball (45.9%) rates are fine, but the homers (1.74 HR/9) and walks (3.76 BB/9 and 10.0 BB%) have been a bit of an issue. Giving up homers to the Sox and Rangers isn't anything to be ashamed of and young pitchers always have trouble with walks. For what it's worth, two of his eleven free passes were intentional, and that will skew his rate performance given the relatively small sample size.
Anyway, with Freddy in the bullpen for long relief, I'd like to see the Yankees employ Phelps as more of a multi-inning middle relief type. He's already stretched out and doesn't have to pitch in high-leverage spots, but there's a need in middle relief. With Soriano and Robertson married to the eighth and ninth innings, Wade is the only right-handed middle guy. Logan isn't totally awful against righties but Rapada certainly is, something we saw just yesterday. Phelps could essentially take over Wade's pre-Mo injury role with the added benefit of being able to throw multiple innings. D.J. Mitchell and Adam Warren provide enough rotation depth that keeping Phelps stretched out to 80+ pitches isn't much of a concern. I think he's shown enough to take on a little more responsibility in a bullpen that is still trying to adjust to life without Rivera.
Based on the weather forecast, there's a very real chance tonight's game will get rained out. If it does and they end up playing a doubleheader tomorrow, Phelps could easily start one of the two games and allow everyone else to stay on schedule. That seems like a better option than throwing both Ivan Nova and CC Sabathia on the same day and having to dig up a spot starter later in the week, but I digress. With Sweaty Freddy in the bullpen and able to serve as the mop-up guy, there's no reason Phelps can't take on a greater role and see some leveraged shorter relief work in the coming weeks. Wade can't do it all himself.