Brett Lawrie is going to get suspended and the Yankees are arriving in Toronto just in time for him to a miss a few games. The tirade you see above was the result of two questionable called strikes last night, and they just so happened to result in the game-ending strikeout a strikeout that was the second out of the ninth inning. That's pretty bad. Lawrie might appeal the suspension and be able to play in this two-game set, but … yeah, that's really bad. Inexcusably bad.
What Have They Done Lately?
Like the Yankees, the Blue Jays just wrapped up a two-game series with a division rival. They lost both games to the Rays and are currently riding a three-game losing streak. They've also lost four of five and seven of their last ten games. Toronto is 19-18 with a +15 run differential, sitting in fourth place in the AL East with the fifth best record in the AL. It's a tough division, you know.
Offense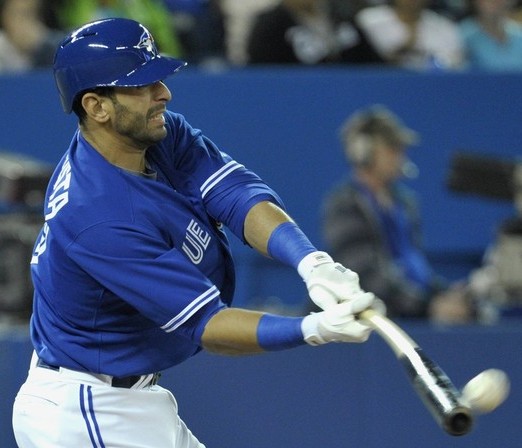 With an average of 4.51 runs per game that just barely ranks as a top-ten mark in baseball, the Blue Jays' offensive attack revolves around Jose Bautista. He's off to a slow start (100 wRC+) but has still hit eight homers with as many walks (23) as strikeouts (23). Blame the .171 BABIP. Edwin Encarnacion (150 wRC+) has hit a dozen homers already and is in the middle of a breakout year that really started in the middle of last season. They're easy to overlook when talking about the best lineup tandems in the game, but these two are incredibly dangerous.
Personal fave Kelly Johnson (123 wRC+) sets the table from the leadoff spot and is actually the only other player on the team that qualifies as a better than league average hitter. Adam Lind (62 wRC+) has been terrible for more than two years now, meaning Johnson, Colby Rasmus (68 wRC+), and Eric Thames (90 wRC+) are Toronto's only left-handed hitters of note. Catcher J.P. Arencibia (72 wRC+) got off to a brutally slow start but has started to rebound in recent weeks. Yunel Escobar (63 wRC+) hasn't done much damage despite hitting second between Johnson and Bautista.
The Jays have some useful pieces on the bench, though I'm sure they'd like Ben Francisco to do more against left-handers (73 wRC+ vs. LHP). Rajai Davis provides some speed (105 wRC+ and six steals in limited action) and Omar Vizquel (-20 wRC+) gives some of the best veteran presents in all of baseball. Assuming Lawrie's little hissy fit keeps him and his 101 wRC+ off the field, Vizquel figures to man the hot corner. Backup catcher Jeff Mathis (126 wRC+ in limited action) has been hammering the Yankees for years and I'm hopeful we won't see him at all after playing in yesterday's game.
Pitching Matchups
Wednesday: RHP Hiroki Kuroda vs. RHP Kyle Drabek
The centerpiece of the Roy Halladay trade, Doug's son has struggled in his various big league auditions and this season is no different. He owns a shiny 3.66 ERA but his FIP (5.12), strikeout (7.55 K/9 and 19.5 BB%), walk (5.49 BB/9 and 14.2 BB%) and homer (1.37 HR/9) rate portend bad things. Drabek's ground ball rate (56.4%) is pretty awesome, however. The 24-year-old right-hander is very fastball heavy, throwing his mid-90s two-seamer, mid-90s four-seamer, and low-90s cutter a combined ~75% of this time. His mid-80s changeup is his primary offspeed pitch, but Drabek will throw low-80s sliders and curveballs on rare occasions. The Yankees have seen Drabek a few times over the last few years, so they should know that patience is the key.
Thursday: RHP Phil Hughes vs. RHP Drew Hutchinson
Toronto's ninth best prospect coming into the season, Hutchinson has pitched to a 5.53 ERA (4.07 FIP) in his five starts, becoming the only man to allow a homer to Albert Pujols this season along the way. The 21-year-old righty has a pretty typical rookie statistical profile — 6.83 K/9 (16.9 K%), 3.25 BB/9 (8.1 BB%), 0.98 HR/9, and 42.2% grounders — after skipping right over Triple-A and making just six career starts at Double-A. His minor league track record (26.0 K% and 6.0 BB%) suggest improvement may be coming. Hutchinson is primarily a low-90s four-seamer/low-80s slider pitcher, but he will mix in the occasional two-seamer and changeup.
Bullpen Status
Like the Yankees, the Blue Jays are currently on their backup backup closer. Sergio Santos has been on the DL for most of the season with a shoulder injury and replacement Francisco Cordero (7.16 FIP) has already lost the job to Casey Janssen (4.01 FIP). The setup tandem of right-hander Jason Frasor (2.67 FIP) and left-hander Darren Oliver (2.61 FIP) have been really, really good in the early going. Multi-inning lefty Luis Perez (3.07 FIP) has been solid but multi-inning righty Carlos Villanueva (5.39 FIP) has not. Rookie right-hander Evan Crawford has allowed two runs in five innings since being called up.
Frasor, Oliver, and Janssen each appeared in last night's game but threw no more than 11 pitches. The entire bullpen is rested, really. The Yankees are in good shape as well after Freddy Garcia soaked up two innings last night. Check out our Bullpen Workload page for each reliever's exact recent workload. There are a bunch of great Blue Jays' blogs out there, including The Tao of Stieb and Drunk Jays Fans.