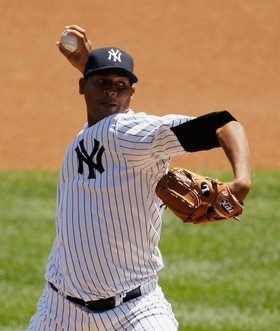 The amateur draft begins in less than two weeks and a few weeks after that, the international signing period will open on July 2nd. The new Collective Bargaining Agreement limits each team to $2.9M in international spending this summer, though clubs can exceed that amount if they're willing to deal with the harsh penalties. Start next season, international spending restrictions will be on a sliding scale based on winning percentage. The more you win, the less you have to spend.
The very best prospect on the international market this summer is Cuban outfielder Jorge Soler, who still has yet to establish residency outside of Cuba and be declared a free agent by MLB. He will be subject to the spending restrictions come July 2nd but can sign for any amount prior to that date, so he better hope they speed up the process. The kid is looking at a bonus in the $20M range at the moment and will get maybe one-tenth of that after July 2nd.
Baseball America's Ben Badler previewed this summer market today (subs. req'd), looking at nine non-Soler players who are among the best prospects available. Two of the nine have been connected to the Yankees…
Luis Torrens, C, Venezuela (video)
A former shortstop and third baseman, the 6-foot-0, 170 lbs. Torrens is rough behind the plate because of his inexperience. He has the athleticism and tools and stick at catcher, though his right-handed bat is the main attraction. Torrens has doubles power to all fields and figures to start driving balls over the fence as he matures, and his approach is very advanced for a kid who turned 16 just three weeks ago. He trains with and is represented by Carlos Rios, the Yankees' former director of international scouting, and Badler says New York is the club "most strongly linked" to Torrens at the moment.
Alex Palma, OF, Venezuela (video)
One of the most advanced hitters in this year's international class, Palma has a right-handed swing geared for hard contact. He's hit high-quality pitching in showcase events but like everyone else his age, he's still developing his power stroke. Palma is listed at 6-foot-0 and 200 lbs. and is limited to a corner outfield spot because he's not the best runner in the world. He does have an arm suited for right field, however. Badler says the Yankees are "making the strongest push" to sign Palma, and his bonus could approach seven figures.
Other top prospects include Venezuelan SS/OF Franklin Barreto (linked to Blue Jays), Dominican OF Gustavo Cabrera (Royals), Venezuelan LHP Jose Castillo (Padres and Red Sox), Venezuelan SS Luis Castro (Rockies), Brazilian LHP Luiz Gohara (Mariners), Venezuelan RHP Jose Mujica (Jays), and Dominican SS Amed Rosario (no team). Seems like a pretty strong year for Venezuela.
Earlier this month Badler speculated about some ways teams could essentially circumvent the spending limitations this summer, including shady under-the-table deals. The Yankees spent just about $3M on international players last summer — or what they gave Gary Sanchez alone a few years ago — but have historically been among the biggest spenders in Latin America. Every team is on an even playing field now, so it's going to come down to scouting ability. Hopefully the lure of the Yankees brand helps as well.